The man who filmed the moment officer Michael Slager shot Walter Scott in South Carolina said he considered deleting the video over fears for his life.
Bystander Feidin Santana said he was on his way to work in North Charleston when he saw Slager and Scott "struggling" on the ground prior to the officer firing at the 50-year-old.
Speaking for the first time since Slager was charged with murder, Santana said Scott was attempting to escape from the stun gun which had been discharged by the officer.
The video contradicts the original report of the incident from Slager, who claimed he shot at Scott after he attempted to take his Taser and use it against him.
Santana told NBC: "They were down on the floor before I started recording, I remember the policeman had control of the situation, he had control of Scott and Scott was trying to get away from the Taser.
"[I could] hear the sound of the Taser... before I started recording and I believe [Scott] was just trying to get away.
"But like I said, he never used the Taser against the cop."
After shooting at Scott eight times as he attempted to flee, Slager can be seen on the film returning to where he opened fired and appears to pick up an object before placing it next to Scott's body.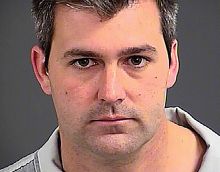 A few hours after the footage was released, the 33-year-old officer was charged with murder. However, Santana admitted he almost deleted the video once he realised the "magnitude" of what he had captured.
"I felt that my life with this information might be in some danger. I thought about erasing the video and getting out of the community, leaving North Charleston," he said.
When asked how he felt about capturing the footage which now means Slager cold face the death penalty if found guilty, Santana said it is not something he "can feel happy about".
"He has his family, Mr Scott also has his family," Santana added.
"But I think, you know, [Slager] made a bad decision, and you pay for your decisions in this life.
"Mr Scott didn't deserve this. And there were other ways that can be used to get him arrested. And that wasn't the proper way to do that."
Justin Bamberg, an attorney who is assisting the Scott family, said Santana's footage proves the need for police to wear body cameras to record their actions.
"Had this witness not shown the courage that he showed, and come forward, would we be standing here?" he said. "It is very arguable that with body cameras on law enforcement, we won't have to depend on the courage of a random stranger who happens to witness something happen."
After Slager was charged with Scott's murder, mayor of North Charleston, R Keith Summey, confirmed he had ordered 150 body cameras for his officers.