A Syrian jihadist who revels in bloodshed and incites Muslims to commit terrorist attacks in the west has been exposed as a former House of Fraser trainee who left suburban Middlesex to become a martyr.
Ismail Jabbar, 22, left the UK nine months ago and is believed to have travelled to Syria through Turkey, where he joined the extremist group Isis (Islamic State of Iraq and Syria), which is currently locked in brutal combat with government forces and the secular Free Syrian Army.
In a series of posts on social media sites including Facebook, Twitter and Ask.fm, he has posted pictures of himself standing over the bodies of slain "Kaffirs", or unbelievers, and says he wants to die in Syria as a martyr.
A family source told the Mail on Sunday: "It's been very stressful. No father or mother should have to go through this. I pray for every mother and father who have lost their son like us. I pray for them to come back."
Jabbar, from Hayes, Middlesex, was a trainee at a local House of Fraser department store before leaving for Syria last August.
As a student at Uxbridge college, he posted updates on Facebook about computer games with friends and watching the TV show Game of Thrones.
At 20, he is believed to have become radicalised after watching extremist sermons online.
After telling his family that he was enrolling in a university course abroad, he travelled to Syria, where he records his experiences in bloodthirsty social media posts.
Last October he revealed that he was in the war zone, writing online: "You see those people on the news the TV, the ones everybody hate yh [yeah] that's me."
Under the pseudonym Abu Maryam Muhajir, he has posted a picture of himself standing over a corpse wielding a Kalashnikov and writes in distinctive text speak "lool under my foot you dirty kuff [kuffar or unbeliever]".
During the recent furore over takeaway restaurants serving halal meat, he wrote: "Someone needs to just grab a knife and do some damage outside subway just inspiring the believers."
When a commenter expressed anger at having to remain in the west, Jabbar replied: "Clinch a knife bro and go stab a soldier its so much easy to kill an enemy of allah there then here coz here they fore back."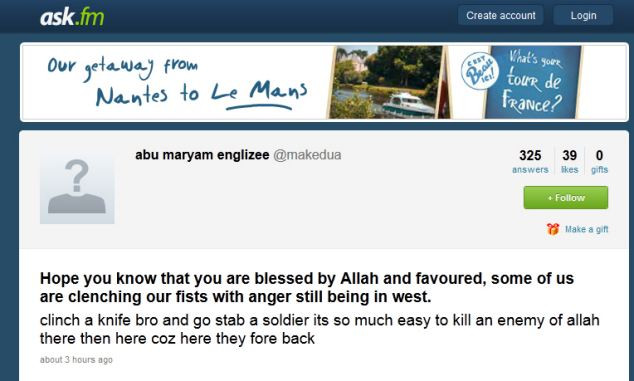 That account has now been closed down, but another, under the name Mohammed Awlaki, is still active.
In it, he says "imagine jihad in Rome my brothers", and posts images including pictures of the severed limbs of enemy combatants and of himself holding firearms.
However, he also admits missing the comforts of home, and posts a picture of a packet of Crunchy Nut cornflakes.
"I miss the english products and foods and I miss my mum," he writes in response to a question on Ask.fm.
His family described their shock at the course his life had taken.
"We are praying every day that he will come back and come to his senses. He is a good kid and I don't understand why he is mixed up in this. We speak to him now and again on the phone – it is always on his terms. We are just a normal British family. This is all stupid, this is not our religion," the source told the Mail on Sunday.
The news comes after two men, aged 19 and 20, were arrested at Heathrow on suspicion of travelling to Syria to take part in the insurgency on Saturday.
UK nationals are believed to make up the largest foreign contingency in Isis, with approximately 20 estimated to have been killed in fighting so far.
In the Queen's speech this week, new laws allowing UK authorities to prosecute British citizens using foreign countries as a base to plan terrorist attacks will be announced. Under current legislation, only those who plot attacks in the UK can be pursued.