The commencement of the International Criminal Court trial of the most feared commander of Ugandan rebels Lord's Resistance Army (LRA), Dominic Ongwen, has been hailed as "an important new chapter" in holding the group accountable for its brutal crimes in northern Uganda.
The trial begins on 6 December in The Hague. Ongwen will be charged with 70 counts of war crimes and crimes against humanity in northern Uganda. This will be followed by opening statements from the prosecution and lawyers who represent over 4,000 victims. The trial will then adjourn until 16 January 2017, when the prosecution will begin to present its evidence.
Led by the Ugandan warlord Joseph Kony, the LRA has committed human rights violations against civilians for nearly three decades, abducted tens of thousands of children for use as soldiers and sexual slaves, and killed and maimed people across the Congo, South Sudan, and the Central African Republic (CAR).
This is the first time one of its fighters has been brought before a domestic or international court to stand trial. The ICC only steps in when national courts are unable or unwilling to prosecute.
"The ICC trial of Dominic Ongwen is a significant first on justice for LRA atrocities," said Elise Keppler, associate international justice director at Human Rights Watch (HRW). "The LRA leadership is reviled worldwide for its brutality against Africans, but never before has an LRA commander faced trial."
The ICC opened an investigation into crimes in northern Uganda in July 2004, following a request from the Ugandan government, and a warrant for Ongwen was issued in July 2005. Ongwen's trial centres on alleged crimes in 2003 and 2004 during attacks on civilians in four camps for internally displaced persons including murder, torture, enslavement, persecution, and pillage. Charges also include sexual and gender-based crimes and the conscription and use of child soldiers in northern Uganda from 2002 to 2005. He has pleaded not guilty.
While Ongwen is believed to be the only former child abductee to face charges before the ICC, the fact that he was a child soldier himself could be relevant to his defense and mitigation in sentencing in the event of conviction, though the crimes he is charged with were committed as an adult, HRW said.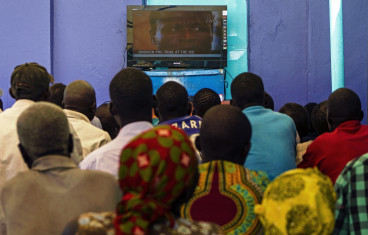 The ICC will coordinate live-streaming transmission of the proceedings in eight communities in northern Uganda that have been affected by the alleged crimes, as well as broadcasting them on local radio.
Given the extent of the serious abuses allegedly committed by the LRA outside Uganda, the rights group said the ICC prosecutor, Fatou Bensouda, should consider expanding the investigation into LRA crimes to other areas under the world court's jurisdiction - crimes committed from 2002 onward.
"Ongwen's trial covers significant crimes, but does not extend to horrific LRA abuses committed outside Uganda," Keppler said. "This is a real loss for the LRA victims in Congo, the CAR, and South Sudan."
Over the course of its 25-year armed conflict with the LRA, Ugandan armed forces have also been accused of serious abuses. The ICC has not ruled out investigation of these alleged abuses.
Who is Dominic Ongwen?
Ongwen is from northern Uganda. According to his family, he was born in 1980 and was abducted by Lord's Resistance Army fighters on his way to school in 1990, at age 10. During its history, the LRA abducted at least 30,000 children, in large part because they are easier to manipulate than adults.
Senior LRA leaders gave him military training and he eventually became known as one of the LRA's more ruthless commanders. He rose to become a senior commander of the armed group, which has earned a reputation for carrying out massacres and mutilating civilians.
On 6 January, 2015, US military advisers working with the African Union Regional Task Force for the elimination of the LRA in the Central African Republic, where some LRA groups remain operational, received Ongwen into custody. The commander was eventually transferred to the ICC.
Now 40, Ongwen is charged with 70 counts of war crimes and crimes against humanity. LRA commander Kony remains at large.