Figures obtained from the Ministry of Defence (MoD) by IBTimes UK have revealed that Royal Air Force (RAF) Reaper drone strikes in Iraq have killed an estimated 305 Islamic State (Isis) combatants. The strikes, which have been taking place since 9 November 2014, are in support of Operation Shader, the UK's contribution to the fight against IS in Iraq.
As part of Operation Shader, there have been 227 RAF Reaper strikes in Iraq as of 30 October, and some 800 UK personnel are part of the mission. Over the weekend, it was reported that two RAF Reaper drones had wiped out two IS checkpoints and a hoard of explosives.
The RAF website insists that "the [Reaper] weapons are all precision guided, and every effort is made to ensure the risk of collateral damage and civilian casualties is minimised, this may include deciding not to release a weapon."
Responding to an FoI request by IBTimes UK, the MoD said: "To date there have been no known cases of civilian casualties resulting from UK strikes in Iraq. All strikes take place in accordance with UK Rules of Engagement and applicable law."
Letta Tayler, Senior Terrorism and Counterterrorism Researcher at Human Rights Watch told IBTimes UK: "It's fantastic if the UK has not killed even a single civilian under Operation Shader. But the Cameron government should provide evidence to back that claim."
Human Rights Watch acknowledges that while "drones are extremely precise weapons" that can avoid civilian casualties if used lawfully, "it's not enough for the UK to say it hasn't killed civilians. It's the facts on the ground that determine whether this is the case. The Obama administration, for example, for years claimed it had killed almost no civilians in drone strikes."
Later today (26 November), David Cameron will present his case on why Britain should bomb IS in Syria. A Downing Street spokesman said that Cameron will set out a the legal basis for RAF air strikes against the militant organisation.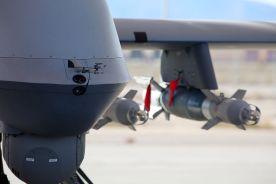 Speaking during Prime Minister's Questions yesterday, Cameron said: "I am not arguing that action from the air alone can solve the very serious problem we have from Isil (IS)". He added that "we need a political settlement in Syria and a government in Syria that can act comprehensively against Isil".
In an open letter to US President Barack Obama last week, four former US Air Force service members urged a rethink of targeted strikes by unmanned aircraft. They said: "We came to the realization that the innocent civilians we were killing only fueled the feelings of hatred that ignited terrorism and groups like Isis, while also serving as a fundamental recruitment tool similar to Guantanamo Bay. This administration and its predecessors have built a drone program that is one of the most devastating driving forces for terrorism and destabilization around the world."