Militants fighting for the Islamic State (Isis) have held a games competition inside their self-proclaimed caliphate in Iraq.
According to the Daily Mail, conflict analysis agency Terror Monitor posted a number of images to their Twitter account on 3 July, showing scenes of children as young as five, appearing to taking part in a makeshift games event.
They are believed to have been staged in the IS-controlled city of Tal Afar, in Iraq, around 30 miles (48km) west of Mosul. Pictures show children surrounded by bearded jihadists, unarmed and relaxed.
Some of the games people appear to be enjoying include tug-of-war and musical chairs. Several participants are seen to be wearing British replica football shirts, featuring teams like Celtic and Manchester City. Watching are large crowds supporting the young competitors in the Nineveh Province, in the north of the country.
Since the images emerged, reports have told that IS commanders executed seven of their own men by boiling them alive in water. The jihadists were said to have fled the battlefield in al-Shirqat in the Salahuddin province on Monday 4 June before being apprehended.
More recently, in a new photo report released by the extremists on Saturday (10 July), IS revealed pictures of them publicly beheading four al Shabaab football players.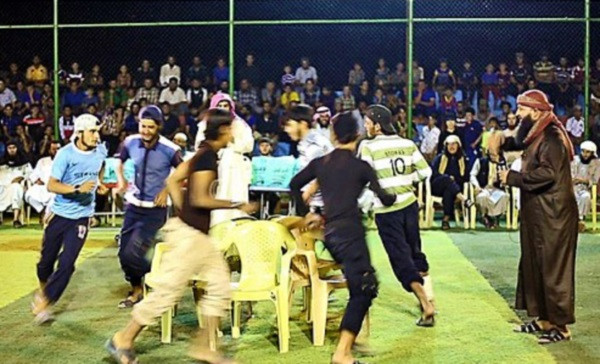 Football fans in the city used to flock to watch al Shabaab - which means "the youth" - play matches but four of their players were executed, reportedly after being accused of spying for the Kurdish YPG.
Also this week, the Raqqa is Being Slaughtered Silently (RBBS) group, which study the pain inflicted by the caliphate's de facto capital by the IS group, has documented some of the torture techniques. They say that often prisoners would be threatened with amputated heads and the jihadis have erected steel cages filled with human skulls that are used to imprison women who disobey.