Upcoming Netflix Original film War Machine has had a new trailer released. The clip sees star Brad Pitt channel a no-nonsense army general, who's more likely to put his foot in it with his superiors than effectively rally his troops.
Inspired by best-selling novel The Operators: The Wild and Terrifying Inside Story of America's War in Afghanistan by the late Michael Hastings, the film follows General Glen McMahon, a commanding general of both international and US forces in Afghanistan.
Hell-bent on winning the "impossible" war once and for all, McMahon along with his fellow commanders and press advisers charge across the globe dealing with difficult international alliances, the dangerous minefield of Washington politics, the influence and aggression of the media, and the day-to-day task of being victorious in the war itself.
While it may sound like a hard-hitting war drama, those who doubt the Netflix Original would suit their tastes should fear not, as the clip makes it clear that War Machine will have its fair share of funny moments. Let's just say McMahon doesn't seem very keen on following orders from his superiors – even going so far as to pretend his Skype connection is breaking up when his boss starts giving him a stern telling off.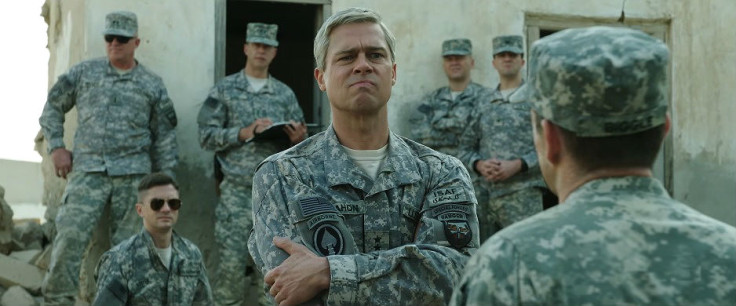 "There was something so wildly crazy-bordering-on-absurd about the machinations of that world," director David Michôd previously told EW. "I was immediately attracted to making a movie, not just about a general who's kind of detached from the world but also making a movie that was kind of batsh** crazy."
Despite being known for dramas such as Fight Club, The Curious Case of Benjamin Button and more recently Fury, Pitt is certainly no stranger to lighter fare. Throughout his career, the 53-year-old has appeared in films such as Snatch, Ocean's Eleven, Mr & Mrs Smith as well as animations Happy Feet Two and Megamind.
But it was in The Coen Brothers' Burn After Reading and Quentin Tarantino's Inglourious Basterds where he could really show off his comedic chops. Looking at his performances in those off-kilter comedy titles, there's no doubting whether he'll do a great job in War Machine too.
Also starring Power Rangers' RJ Cyler, Get Out's Lakeith Stanfield, Will Poulter, Topher Grace, Ben Kingsley and Tilda Swinton, the film will debut on Netflix on 26 May.