Following on from a car accident where he died and was resuscitated, Tracy Morgan is set to make his eagerly-anticipated comedy comeback with upcoming Netflix special Staying Alive. Just a week before the outing makes it way onto small screens, the streaming service has released a first look trailer, showing the 48-year-old turning to his gruelling road to recovery as the inspiration behind his latest gags.
"My grandmother prays all the time. I was like: 'Stop praying over me! I already died and went to Heaven and spoke to God and God said, "Tell your grandmother to shut the f*** up!"'" he joked.
But it doesn't seem like the whole show will be filled with laughs. Judging by the sneak peek, Morgan is going to take the opportunity on stage to talk about some of the more heartfelt, intimate moments he experienced after the crash.
"When I was in my wheelchair, my daughter was 14 months old," he explains to the audience. "I got to see her take her first steps. That inspired me to get out my wheelchair, and I took my first steps. So now me and my daughter walk hand in hand for life, 'cause we learned to walk at the same time. That's magic."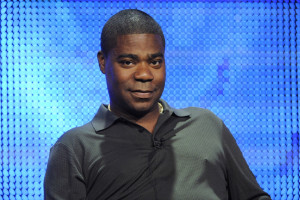 Morgan is best known for his stand-up, but has almost made regular appearances in sketch show Saturday Night Live and comedy series 30 Rock across his career. He's also starred in movies such as The Longest Yard, Cop Out and The Night Before.
Back in June 2014, he was involved in a fatal road collision between a minibus and five other vehicles which left Morgan seriously injured and fellow comedian James McNair dead. Morgan was clinically dead for a nearly two minutes before being resuscitated.
"I'm a survivor," he told GQ back in 2015. "I was just in an accident, but because of comedy, I didn't end up a statistic like a lot of my friends did growing up in the projects. I was able to make people laugh to keep them off my back."
As well as his Netflix special, Morgan will be heard lending his voice to Felix the camel in upcoming nativity animation The Star. In the near future, he'll also start filming his untitled comedy series which centres on an ex-con who is forced to adjust to life outside of prison after he's released.