Bobby Brown's sister Leolah Brown has sensationally claimed that Bobbi Kristina and her mother Whitney Houston were murdered.
The 22-year-old passed away on 26 July at Atlanta's Peachtree Christian Hospice, almost six months after she was found unconscious in a bathtub at her home.
Her death comes three years after her mother's death in 2012, when the My Love Is Your Love singer drowned in a bathtub at the Beverley Hills hotel. The official coroner's report ruled that she accidentally drowned in a bathtub because of heart disease and chronic cocaine use.
In an alarming Facebook post, Brown alleged that the aspiring actress and her late mother were both victims of foul play.
"I never have said anything until Whitney was murdered and now my niece Bobbi Kristina!" she wrote.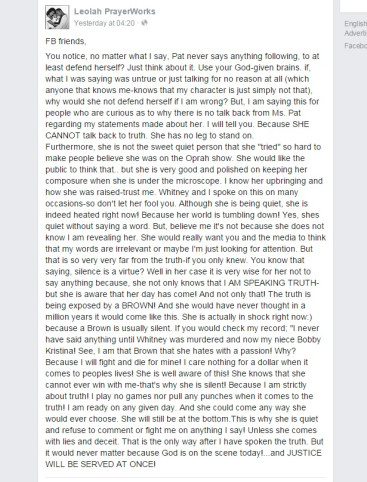 Her online ramblings took an even more sinister turn when she alleged that Bobbi Kristina's maternal aunt Pat Houston had a hand in their deaths.
"Yes, she's quiet without saying a word. But, believe me it's not because she does not know I am revealing her. She would really want you and the media to think that my words are irrelevant or maybe I'm just looking for attention. But that is so very very far from the truth − if you only knew," Bobby Brown's sister said.
This is not the first time Leolah has publicly voiced her doubts about Pat, who was Houston's manager and the wife of her brother Gary. Back in June, before Bobbi Kristina was moved to Atlanta's Peachtree Christian hospice, she slammed Houston's sister-in-law as 'money-grabbing' and claimed she was not concerned with her niece's health.
Pat was recently named co-guardian of Bobbi Kristina's estate, along with father Bobby Brown. The move means that they now stand to inherit her $20m (£12m) estate.
"If Pat knew The God that I know, instead of trying to inherit my niece's money for her personal gain, she would mind her own business and go find A JOB for herself without continuously working so hard to destroy my niece, beg her for money and get angry when she cannot get it!" she wrote at the time. "She would stop using the Houston name for her personal agenda."