As Bobbi Kristina's family struggles to come to terms with her tragic death, Hollywood filmmaker Tyler Perry has come forward to express his devastation.
The aspiring actress, who was the only child of singers Whitney Houston and Bobby Brown, passed away on 26 July at Atlanta's Peachtree Christian Hospice, almost six months after she was found unconscious in a bathtub at her home.
Taking to Twitter, the Star Trek and Gone Girl actor, who was close friends with Houston, said that he was rendered speechless by her passing.
"I'm a writer with no words.... Bobbi Kris," he told his 4m followers.
Perry was seen visiting the hospice, where Bobbi Kristina was laying in a coma, on a number of occasions, and the 45-year-old Medea star is said to have lent Bobby Brown his private jet so he could visit his daughter.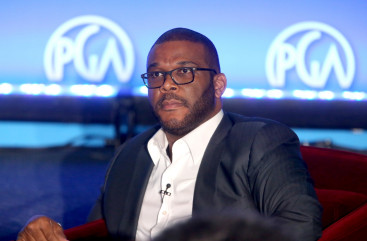 A week before her life ended Perry made an emotional plea to the public and media to stop speculating about her health after visiting the 22 year old in hospice care.
"This morning I woke up with Whitney on my mind. I couldn't help but think about all that she must have dreamed for her child. I know this was not her dream... And as difficult as this time is for the people that love both Whitney and Krissi, what makes it more egregious is the blatant disrespect, lies, and ignorance that are rapidly printed in this awful time," he wrote on Facebook.
"For some reason, it has become human nature in our society to look for, seek out, and celebrate darkness, glory in tragedy, and enjoy reading and reporting it. It makes me sad to know that everybody wants to be the first to report something awful. So much so, that they find it OK to speak death onto those who are still alive. May I ask you all to please show some decency and respect? Not only to Krissi's family, but also to the other families that are there in this place."
Bobbi Kristina's death comes three years after her mother's death in 2012, when the My Love Is Your Love singer drowned in a bathtub at the Beverley Hills hotel.
Meanwhile, an initial post-mortem examination by the Fulton County Medical Examiner revealed no significant injuries and no obvious underlying cause of death for Bobbi Kristina. Further laboratory tests are due.