Washington DC: Where activists have already started resisting the Trump administration
Groups are gearing up for Trump's inauguration while others have already begun taking to the streets.
Three days before Donald Trump takes office, activists are already trying to disrupt his presidency. Across Washington DC groups have been gathering to learn about civil disobedience, while near to the White House that Trump will soon occupy, protesters attempted to surround and shut down Trump Hotel.
In a church in Columbia Heights, those who wanted to take on the upcoming inauguration on Friday (20 January) met under the banner of Disrupt J20. Together, they talked about what civil disobedience meant. Standing in the middle of a circle, a leader made statements and asked those it applied to to step forward.
"Have you ever seen an NBA game?" Most step forward. "Have you ever been arrested?" Some step forward. "Have you ever been taken to jail?" A few step forward. "Are you ready to disrupt the inauguration?" Everyone steps forward.
Later they took to groups, discussing examples of non-violent protest and deciding what challenges they might face. But after this preparation, the physical preparation begins.
In an earlier press conference, Disrupt J20 had said that activists would physically halt Secret Service security checkpoints at the inauguration "with their bodies". Preparing for action, those gathered in the main body of the church stood facing each other, linked arms and pulled.
Later they screamed into each others' faces, knowing the kind of reaction they might elicit from those who don't agree with them. They want to be prepared.
They're not going unnoticed or unchallenged. A video published by a right-wing group on Monday (16 January) claimed the protestors are planning to release stink bombs into the alt-right Deploraball event. Disrupt J20 were quick to fire back, saying they had suspected "infiltrators" and had purposely given them false information.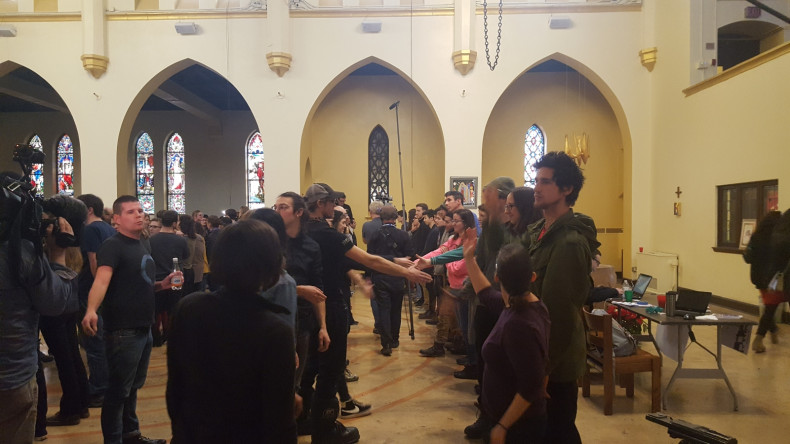 Elsewhere in the city, a small but vocal group of around 40 people met at McPherson Square to march through the streets of DC with the aim of "shutting down" the recently opened Trump Hotel. Activists said they had done just that on Sunday night, though one said that that was largely because when the march reached the hotel, the hotel "kind of shut itself down".
Flanked by police cars, the demonstrators walked through central DC's streets, stopping at intersections to call pedestrians and restaurant-goers to join their march on the hotel. They regularly invoked Martin Luther King on the day that commemorates his life, and claimed that contemporary US politics is analogous to 1930's Germany.
They chanted "No Trump, no KKK, no fascist USA" – heard regularly in protests against Trump's incoming administration. At Jeff Session's senate hearing, it was the slogan often yelled by protesters as they were led from the room.
Refuse Fascism are clear that they do not want Trump or Pence ever to take office. One speaker at their gathering point said "we have four days". They loudly support Representative John Lewis, a veteran civil rights champion who attracted Trump's Twitter ire when he called the President-elect "illegitimate".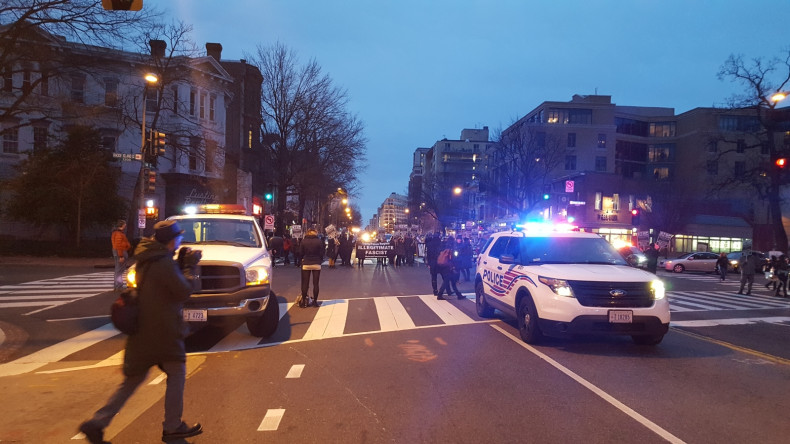 "It is illegitimate to say you're gonna take away citizenship from people who burn a flag. It is illegitimate to attack the press," a Refuse Fascism spokesperson told the crowd. "John Lewis told the truth, that not only Donald Trump but his whole regime is illegitimate."
It was a sentiment echoed at the Disrupt J20 meeting. Trump may be democratically elected but he should be resisted nonetheless, so dangerous is his message, they said.
Though the resistance to the upcoming administration has already begun, the inauguration is still the day to watch out for. Disrupt J20 have permitted and unpermitted demonstrations occurring all over the city.
"In the morning, we're doing blockades of all the checkpoints to get into the inauguration viewing area and the parade route itself, as well as transit blockades around the city," Disrupt J20 organiser Legba Carrefour told IBTimes UK.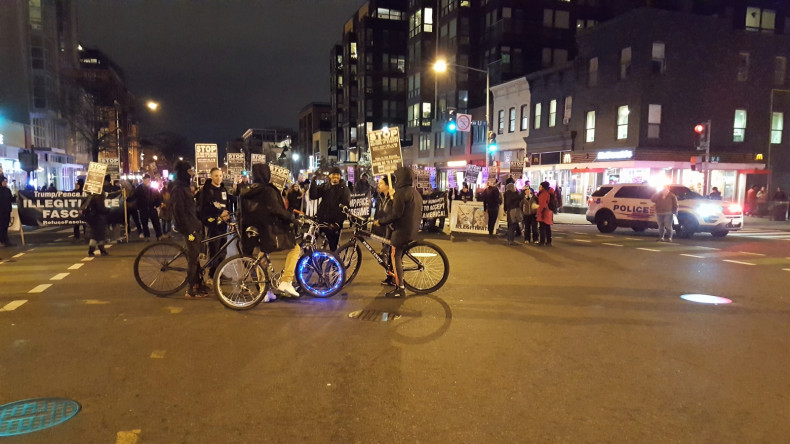 Another group who support the legalisation of cannabis are planning to hand out 4,200 joints on the day, telling people to light them 4 minutes 20 seconds into Trump's speech. Though not illegal in DC itself, where possessing small amount of cannabis for personal use is allowed, that is not the case on federal land, meaning those carrying joints on the National Mall could face arrest.
The planning for the inauguration protests had been happening long before the election, one Disrupt J20 organiser told the group. Whether Clinton or Trump had won, they were planning to protest.
However long it's taken, the groups are ready to start bringing their anger towards the imminent Trump administration to the street. "I'm super excited," said Carrefour.