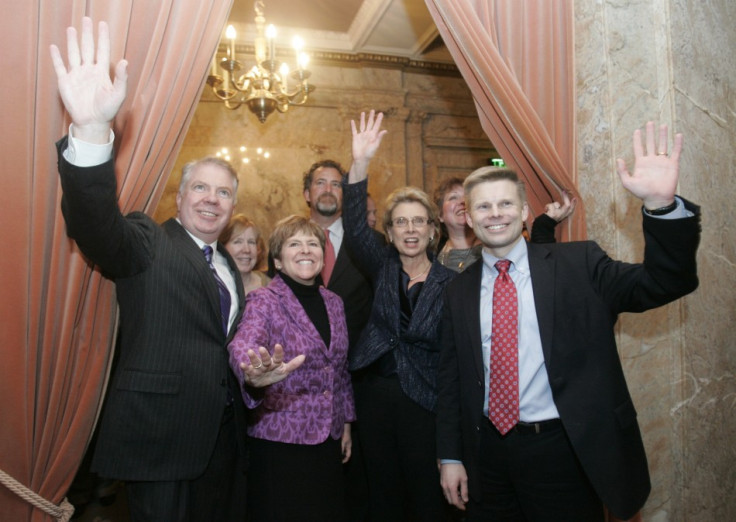 Washington state law makers passed a bill to legalise same-sex marriage on Wednesday, making it the seventh state in US to back same-sex marriage.
The Washington House passed the bill on a 55-43 vote, a week after the state senate passed the bill. Democratic Gov. Chris Gregoire is expected to sign it into law next week.
The decision comes a day after a California court declared that banning gay marriage was unconstitutional.
Apart from Washington, New York, Connecticut, Iowa, Massachusetts, New Hampshire, Vermont and Washington DC are some of the states that have passed the bill on same-sex marriage.
Democratic Rep. Jamie Pedersen, a gay lawmaker from Seattle who has sponsored gay rights bills in the House for several years, said that while he and his partner are grateful for the rights that exist under the state's current domestic partnership law, "domestic partnership is a pale and inadequate substitute for marriage," the Associated Press reported.
But the proposal would take effect 90 days after the session ends next month. Meanwhile, several opponents argued against the bill, saying that it goes against the tradition of marriage.
The opponents have promised to fight gay marriage with a ballot measure that would allow voters to overturn the legislative approval.
If the opponents gather more than 120,000 signatures by June 6, the bill would be put on hold until the November election.
A BBC report said that a survey conducted in October by the University of Washington found that 43% of respondents would support gay marriage legislation.
A further 22% said they supported equal rights for same-sex couples, without calling the union "marriage".