See this amazingly cool cat face off with huge rattlesnake in Texas
The kitty wasn't scared by the enormous venomous reptile...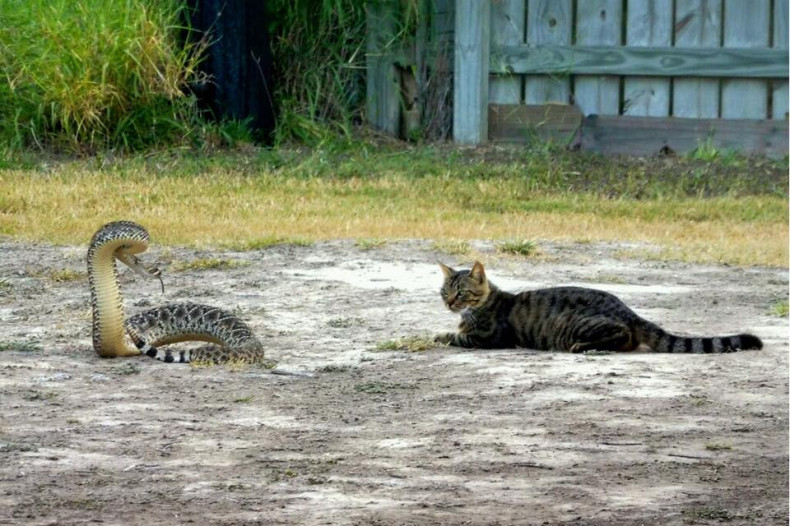 A photograph of what must be the coolest cat in Texas has gone viral, showing the kitty facing off against an enormous rattlesnake on some brush.
The black-and-grey cat can be seen locking eyes with the venomous reptile while sitting languidly within striking distance.
The photo was uploaded to Facebook by the Laguna Vista Police Department, who were called after birdwatchers using a nearby trail saw the pair squaring-off.
"They called the police department because they saw the snake and they also saw the cat right next to it," Officer Christina Vega told RGV News.
"Their concern was that it was a huge rattlesnake, we don't see those often. It was only aggressive and upset because there was a cat right next to it," she added.
Other photos show police rounding up the slithery specimen and putting it in a bag to be moved away from the area.
The department warned that rattlesnakes are more prevalent this time of year than at any other, due to the benign temperatures.
Vega said: "If you happen to see a snake like that again, don't get close to it and don't mess with it. If you do bother them, they will probably bite you, stay away from them."
"The temperatures are going up, that's when the rattlesnakes come out. Just watch where you're stepping, always look at your surroundings."
Around 8,000 people in the US are bitten by rattlesnakes each year, but the number of subsequent fatalities is usually in the single figures.
A rattlesnake's venom would likely be able to kill a cat.