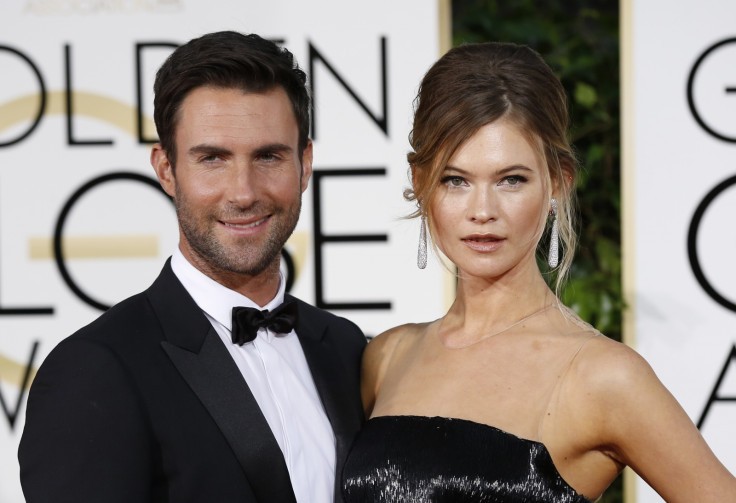 It's official. Adam Levine, 38, and Behati Prinsloo, 28 will welcome another baby girl in just a couple of months.
The Maroon 5 frontman disclosed the big news on The Ellen DeGeneres Show on Tuesday (7 November), telling the talk show host: "It's a girl. I'm having another girl."
When DeGeneres asked how his Victoria's Secret model wife was coping, the singer admitted he was awe of his "champion of the world". He gushed:"She's awesome... She's killing it. You wouldn't know she's almost seven months pregnant."
The celebrity couple announced in September that they were expecting baby number two when she shared a photo of her baby bump on Instagram with the caption "Round 2". But they hadn't given away the sex of the baby until now.
Levine and Prinsloo are already parents to daughter Dusty Rose, who was born on 21 September 2016. Having suggested their first child's unique name, DeGeneres said she had already sent recommendations for some "good ones" for the new baby as well.
However, the Sugar singer made it clear that DeGeneres isn't "going to be involved with this next one, too."
According to DeGeneres, Dusty Rose is so serene, like a "zen baby". The Voice mentor remarked that he found that "funny" because both him and Prinsloo are "like maniacs" and it's their daughter who usually has to calm them down.
When asked if he was going to have more children, Levine said, "I want a lot. I thrive in chaos". He also mentioned that Prinsloo, who is an only child, wants "like 100 babies, but I don't know if I could do that."