Shocking footage of an armoured national guard vehicle hurtling into a crowd of anti-government protesters in the Venezuelan capital, Caracas, has emerged.
The scenes were posted on Twitter by journalist Hector Antolinez on Wednesday (3 May) as angry protests left more than 300 people injured. The South American country has been rocked by unrest over the past few weeks amid a severe economic and political crisis.
Thousands of people opposing President Nicolas Maduro's decree to create a new constitution packed the streets of Caracas in a peaceful rally on Wednesday.
They were subsequently blocked, sparking brawls across the city between masked youths and soldiers, Reuters reported.
The shaky clip shows two armoured vehicles retreating as they came under attack from firebombs as thick smoke pervaded the air. One of the vehicles was on fire.
As a group of people raced towards the vehicle, it suddenly started to advance, ploughing straight into the crowd. Protesters took on soldiers in riot gear in an intense exchange as rocks, bottles, shots and tear gas flew through the air.
The violence in Caracas left 17-year-old protester Armando Canizales dead after an object struck him on the neck according to Gerardo Blyde, mayor of the capital's Baruta district.
"A young man who had all his life ahead of him," Blyde posted on Twitter. "He was just fighting for a better country."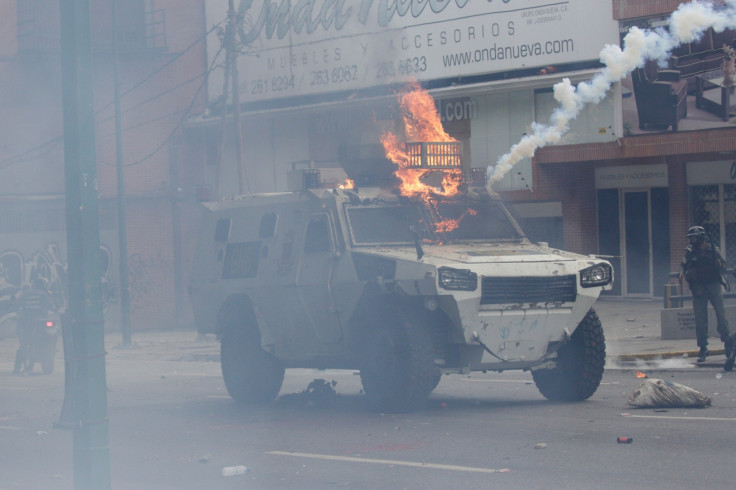 According to Reuters, the crowd of demonstrators was trying to reach the National Assembly legislature to protest Maduro's alternative constitution. Critics perceive its creation as an attempt by Maduro to circumvent free elections and hold on to power.
Protests have been taking place for over a month and the latest death toll stands at 34.
On Monday (1 May), Maduro told a May Day rally that a new constitution was required to "restore peace" and prevent the opposition from staging a "coup d'etat".
The US has branded Maduro's moves as an attempt to cling to power and Brazil called it a "coup". His recent decree creates a 500-member constituent body to rewrite the constitution and bypass the opposition controlled National Assembly.
Venezuelans are suffering from dire economic conditions and 82% of its citizens are living in poverty in a country with the largest proven oil reserves in the world, according to political scientist Maryhen Jimenez Morales.
Chronic food shortage and a lack of medicines and other basic supply have exacerbated the situation. As food prices continue to soar, the country is heading into deeper trouble, with the International Monetary Fund (IMF) predicting inflation to rise 720% this year and over 2,000% next year.