Opposition leaders in Venezuela have called for another major demonstration, dubbed "mega protests", on Wednesday (3 May) against President Nicolas Maduro's move to rewrite the country's constitution.
Earlier this week, Maduro issued a presidential decree to create a 500-member "constituent assembly", to begin the process of rewriting the statute in a bid to put an end to the ongoing protests against his government. The move is seen by critics as a veiled attempt by the unpopular president to cling to power by avoiding elections.
"People, into the streets! You must disobey such lunacy!" opposition leader Henrique Capriles said on Twitter.
As the near-daily agitation entered the fifth week, hundreds of people blocked the streets of the capital Caracas on Tuesday (2 May) and staged protests with broken concrete, twisted metal and piles of trash that were set ablaze, Reuters reported.
Security forces were deployed to subdue the crowd and they had to use tear gas and water cannon at anti-government demonstrators.
So far, at least 28 people are reported to have been killed from both sides of the political divide in violence related to pro- and anti-government rallies, where protesters clashed with security forces.
Maduro's opponents want a referendum to remove him, and thereby hold election earlier than the scheduled one in 2018. They have been blaming the president for acute shortage of food and medicines in the oil-producing country.
Maduro has rejected all allegations and even set up the constituent assembly – a step that would bypass the opposition-controlled Congress.
Chile, Argentina, the US and other countries have voiced concern following Maduro's announcement. The US accused Maduro of taking the country towards a dictatorship, while Brazil termed Maduro's move a "coup".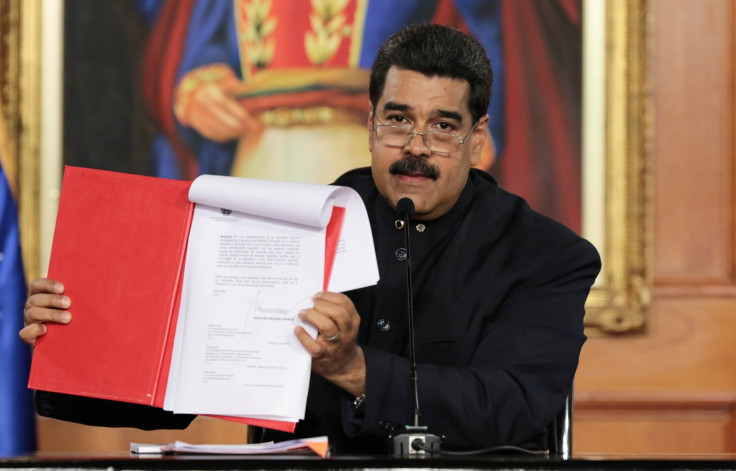 "President Nicolas Maduro's proposal for a constituent assembly is a coup d'état. It is another break with democracy, violating the country's constitution," Brazilian Foreign Minister Aloysio Nunes said in a Facebook post on Tuesday (2 May).
Nunes accused Maduro of planning to draw up a constitution "as he wants it".
"We have deep concerns about the motivation for this constituent assembly which overrides the will of the Venezuelan people and further erodes Venezuelan democracy. What President Maduro is trying to do yet again is change the rules of the game," said US State Department spokesman Michael Fitzpatrick.
Argentina's Foreign Minister Susanna Malcorra said Maduro's move "poured petrol on the fire" of the already escalating political unrest.
"It seems that he is doubling down, and not realising that those who die in the street – whatever colour they wear – are Venezuelans," The Guardian cited Malcorra as saying.