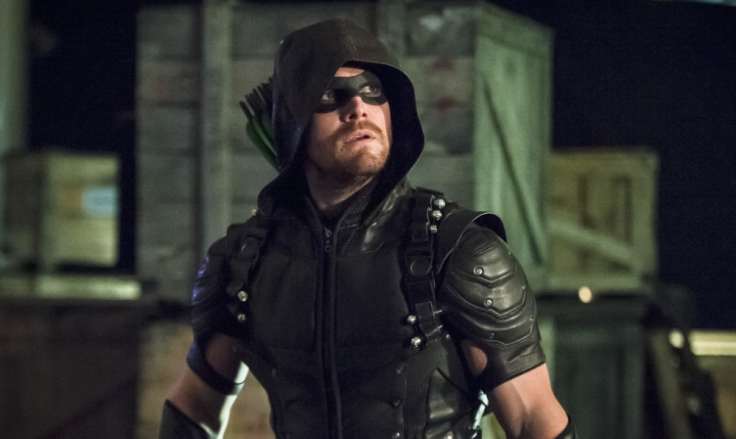 After a near hit and miss throughout the season, Oliver Queen and Damien Darhk will finally fight head to head, amid a nuclear apocalypse in Arrow season 4 finale. Episode 23 is titled, Schism, which will air on 25 May at 8pm EST on The CW.
Click here to watch it online on The CW website (only in US).
Damien Darhk, who lost control of Rubicon and the Ark, wants to see the world burn, and Oliver will face the most difficult challenge of his life as Star City crumbles around him. Stephen Amell who plays the Green Arrow spoke to Entertainment Weekly about Arrow season 4 finale episode.
He said, "I can tease that there is an ultimate showdown, and that ultimate showdown takes place on a level playing field. And I know the hook from the last episode made it feel like the whole episode would be about rescuing Felicity, and that's really not the case at all. We solve that problem pretty early on."
The Teenage Mutant Ninja Turtles 2 actor added, "It calls back a little bit of our premiere from this year, which I think is always a fun technique. We get some resolution. Not just for Oliver, not just for Darhk, but for most of our core cast members."
According to Amell, the finale will introduce the new big bad for season 5. "There's nothing we really do in the finale that introduces a big bad for next year. We do throw a little hook in there that will very much excite people for season 5, but it does not have to do with the big bad," he stressed.
A promo for the episode shows Star City in shambles as a news report claims, "The Nuclear attack in our city is imminent!" Darhk then announces a "mercy killing on a global scale" as he unleashes his dark power on the street people.
Oliver will hang his Green Arrow costume to help people, as he yells, "I know that this city has been through tough times before, and we have pull through. We will survive this." Can Oliver save Star City? We will have to watch Arrow season 4 finale to find out.