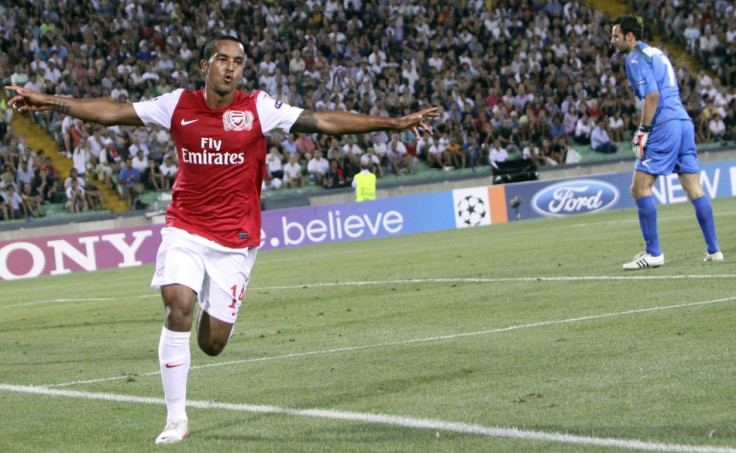 Theo Walcott believes that Alex Oxlade-Chamberlain hasn't even begun to reach his full potential yet, with the young star bursting onto the Barclays Premier League scene this season and showing his transfer fee was worth it.
Chamberlain was a signing by Wenger that many considered a big risk; the winger was completely unproven in the top-flight, and while he was the centre-point of newly promoted Championship side Southampton, his £15 million fee was a record for both the Gunners and his former club.
But the 18-year-old has already scored two goals for the side, including an all-important strike to take Arsenal to a 2-1 win over Olympiakos in the Champions League group stages.
And Walcott, who made the move himself from Southampton to Arsenal in 2006, believes the best is yet to come from the starlet.
"When you get the opportunities [as a teenager] you have to grab it with both hands and he has done that," Walcott told the official Arsenal website.
"He's shown what he can do in the Carling Cup games and the Champions League. He's got a good head, he wants to learn, and that's very important. He's very relaxed as well and that does him a big favour because he fits in well."
Chamberlain is yet to feature for the senior England squad, though Walcott, who is currently preparing to take on Spain with the Three Lions, believes that within the next seven months the winger may well be able to show Fabio Capello that he's worth the chance Wenger handed to him at the start of the season.
"Alex has definitely got the potential to be there [at Euro 2012]," he argued.
"I don't think I deserved to go to the World Cup in 2006 but I hadn't played any games in the Premier League while Alex has played in the Champions League. He knows he has a lot to learn but he is showing very good signs at this moment in time."
And in a show of how influential Chamberlain's performances have been for Arsenal this season, fellow youngster Nico Yennaris says that the less experienced players are looking up to the Englishman for inspiration.
"I was only playing against Alex last year with the Under-18s so it just goes to show what can happen in a short space of time," Yennaris said. "He's doing well for himself and he's just showing everybody else what's possible."
As Chamberlain settles into the Barclays Premier League, Arsenal seem to be on the improve, with the side recovering from their poor start to the season and shooting up the table to seventh. The Gunners are now within a win of a top four spot, and will be aiming to take three points from Norwich after the international break to complete their comeback.