An Australian journalist's analysis of Donald Trump has captivated audiences across the globe after footage of his broadcast became a viral sensation.
Chris Uhlman, the political editor of Australia's ABC news, is well known to local audiences for his frank views, but his stature grew to new heights when he shared his searing opinions of the US president.
He was speaking from the G20 summit in Hamburg where Trump met with leaders from across the world, but became further isolated as the leaders reaffirmed their support for the Paris agreement on climate change.
"There's a tendency among some hopeful souls to confuse the speeches written for Trump with the thoughts of the man himself – he did make some interesting, scripted observations in Poland about defending the values of the West," Uhlman said.
"And he's in a unique position. He's the one man who has the power to do something about it, but it's the unscripted Trump that's real.
"A man who barks out bile in 140 characters, who wastes his precious days as president at war with the West's institutions like the judiciary, independent government agencies and the free press.
"He was an uneasy, lonely, awkward figure at this gathering and you got the strong sense that some of the leaders are trying to find the best way to work around him.
"Donald Trump's a man who craves power because it burnishes his celebrity. To be constantly talking and talked about is all that really matters and there is no value placed on the meaning of words so what's said one day can be discarded the next."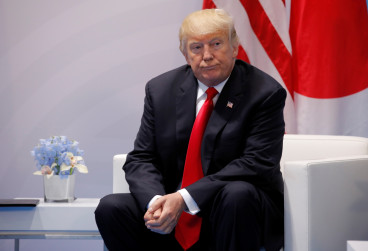 Uhlman added that Trump was diminishing the values and clout of the United States and letting authoritarian states like Russia and China fill that power void.
"So what did we learn?" he said. "We learned that Donald Trump has pressed fast forward on the decline of the United States as a global leader.
"He managed to isolate his nation, to confuse and alienate his allies and to diminish America.
"He will cede that power to China and Russia – two authoritarian states that will forge a very different set of rules for the 21st century.
"Some will cheer the decline of America, but I think we will miss it when it's gone and that's the biggest threat to the values of the West which he claims to hold so dear."