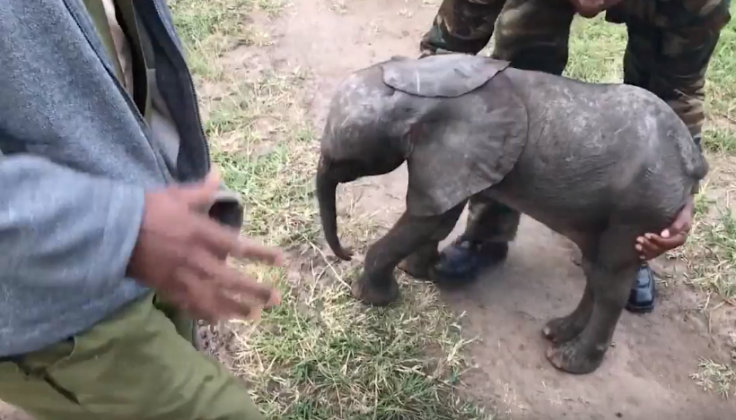 In the animal kingdom, the runt of the litter is most often left to face the elements alone. It is not a promising start for these weaklings who most often die of starvation or get attacked by predators. One baby elephant may have been facing the same fate were it not for a group of conservationists who came to its rescue.
The infant bush elephant was born prematurely and was too small to reach its mother's teats. Unable to feed from her, he was abandoned in the Maasai Mara National Reserve in Kenya.
The elephant would have died soon were it not for a team from the Mara Elephant Project, which literally flew to its rescue in November. National park workers along with the conservationists joined hands to rescue the cub and transport it to its new home at the David Sheldrick Wildlife Trust, an animal orphanage Nairobi.
"The project protects elephants to conserve the greater Mara ecosystem," a spokesperson for the Mara Elephant project said. "Intervening with abandoned baby elephants is something we do on a regular basis, so we know to stay calm and collected.
"This was, however, the first time we've had an elephant in our helicopter. They are usually slightly too big for the trip," he added.
The baby elephant was given the name Panya, which means mouse in Swahili. Once it reached its new home, the elephant was given fluids to help it recover and is being cared for by a team of workers.
In another heart-warming rescue, an Indian forest official was caught on camera carrying a baby elephant on his shoulders as he attempted to take it back to its mother. According to reports, the calf was separated from the rest of the heard after getting stuck in a canal in Udhagamandalam in the southern state of Tamil Nadu.
The forest official delivered the calf back to its mother, but the one-month-old elephant kept returning to them, only to be sent back. This went on over two days until finally the mother herself came to retrieve her baby.