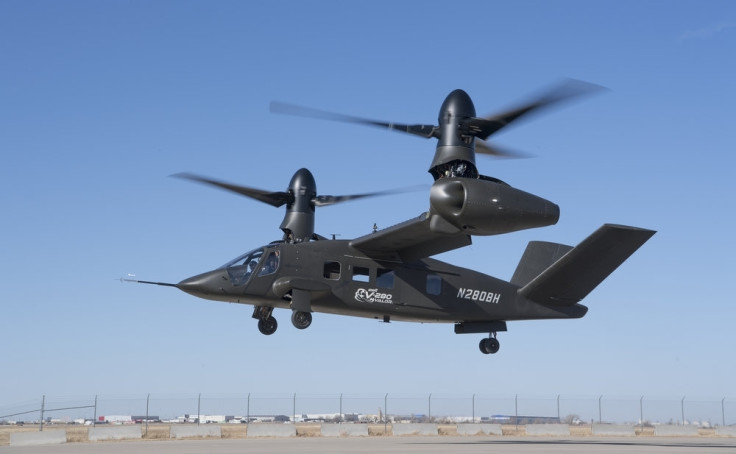 American aerospace giant Bell Helicopters' brand new tiltrotor V-280 Valor has taken to the skies for the first time. The aircraft, which is designed to lift-off and land vertically and fly like a propeller-driven craft, fired its engines and remained in the air for a short while.
The tiltrotor, which could one day replace US Army's Blackhawk, lifted off for a brief 30 seconds at the company's Texas facility.
Though Bell has not detailed the specifics of this test, a video shared by the company on YouTube does give an idea of how it will take to the skies and aid US Army's future missions.
"This is an exciting time for Bell Helicopter, and I could not be more proud of the progress we have made with first flight of the Bell V-280," says Mitch Snyder, President & CEO for Bell Helicopter.
"First flight demonstrates our commitment to supporting Department of Defense leadership's modernization priorities and acquisition reform initiatives. The Valor is designed to revolutionize vertical lift for the U.S. Army and represents a transformational aircraft for all the challenging missions our armed forces are asked to undertake."
Just a few months back, we saw the tiltrotor firing its engines with a tether attached to keep it from taking off. It is worth noting that just like the last time, the rotors which tilt at 90-degrees have been blurred for some reason in the video.
The first flight comes as Bell continues to prepare the aircraft for US Army's Joint Multi-Role Technology Demonstrator (JMR-TD) program, part of the larger Future Vertical Lift (FVL) initiative aimed at replacing UH-60M Blackhawk, AH-64 Apache, CH-47 Chinook, and OH-58 Kiowa medium transport helicopters with next-gen rotorcrafts packing enhanced speed and range.
Despite packing a massive profile, Valor delivers on all necessary aspects. Bell aims to sell the tiltrotor to all services, but Army – with thousands of Blackhawks – could be a potential market for the company.
If we compare Valor's capabilities with UH-60M, the new craft stands out by all means. It can carry as many 14 troops or a payload of 5,400kg and cruise at a whopping speed of 520kmph. In contrast, Blackhawk can only carry 11 troops with speeds going around 280kmph.
Even the combat mission range of the V-280 is estimated to be around 500-800 nautical miles, which goes way beyond Blackhawk's 368 nautical miles.
Watch V-280 Valor take its first flight: