Bones season 10 finale airs on 11 June at 8pm on FOX.
Episode 22 is titled The End In The End, where Angela and Hodgins will work their last case, before moving to Paris.
Click here to watch online on the official Fox website.
The official synopsis reads as follows:
In the Season 10 finale, a victim's remains at a crime scene are reminiscent of Christopher Pelant's dirty work, so the team revisits their files on the infamous killer to find his possible protégé. Meanwhile, Angela wonders if Paris is the right place for her and Hodgins; and Brennan and Booth mull career moves out of the Jeffersonian and the FBI, respectively
In the last episode, we found Booth and Brennen working on their relationship and taking a step forward. Angela and Hodgins told Saroyan that they are moving to Paris. It's been over a decade for the couple at the Jeffersonian, and Angela feels it is time to move on.
But in the finale promo, Hodgins and Angela decide to come back to the Jeffersonian to work the current case, because it's related to Pelant.
But it seems like both of them might be having their doubts. When Cam sends Hodgins home after discovering some evidence, he reiterates that he wants to stick out the case until it's done. When Angela sees how much Hodgins loves his work, she too is hesitant to leave.
Will they reconsider their decision?
The finale could also be the last time we see Booth and Brennan, and they mull over quitting the FBI.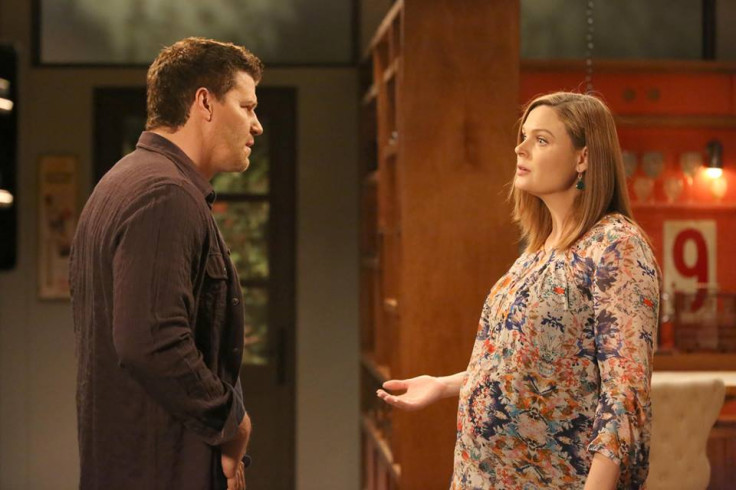 In a new promo video, Booth and Brennan have a heated conversation after he finds a stack of job offers, and confronts Brennan, only to learn she is definitely considering a "change."
"These are the types of decisions that we deal with and talk about as a team," Booth says, before Brennan points out that he was ready to leave the FBI and move to Europe at the end of last season. It turns out, Brennan has already started looking at new job opportunities for her husband as well.
Executive producer Stephen Nathan told Entertainment Weekly, "I think there are always going to be different reasons for leaving. There are an infinite number of reasons to walk through a door," Nathan says of the season ender, which he calls "really emotional even for me to see."