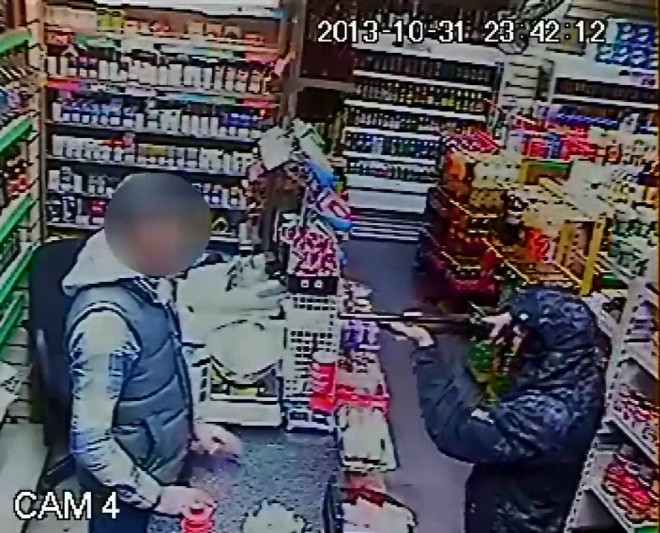 A shocking video shows the moment a brave shopkeeper was almost killed by a shotgun-toting robber during a bungled raid.
CCTV footage shows the shop owner bent-double and staggering back towards the shop after he was shot while chasing the would-be robber.
The fearless 51-year-old went after the hodded gunman after he waved the shotgun in his face during an attempted Halloween raid at the Show Supermarket shop in Plaistow, east London.
The footage shows two suspects entering the shop at approximately 11.45pm before the first suspect brandishes what appears to be a single-barrell sawn-off shotgun.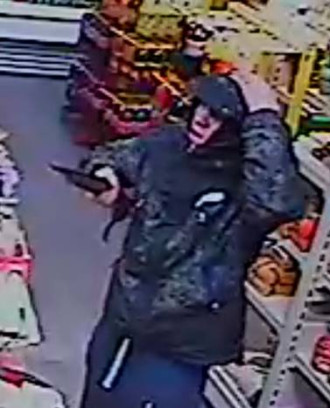 Resisting the first suspect's calls to hand over cash, the shop owner bats away the weapon while a second suspect keeps watch in the doorway.
Despite the threat of violence, it appears the shopkeeper's bravery may have caught the suspects unaware as soon after they both run away from the shop.
It is then that the the owner and a shop assistant chased after them, with the owner picking up a broom as he sprinted out of the door. However, he was stopped in his tracks when he was shot in the chest at close range.
The CCTV shows the shop owner stagger back to the shop, helped by the assistant.
The shop owner was taken to hospital with serious life-changing injuries and was in a coma for more than two weeks.
He has since been discharged but the lasting effects of his injuries have severely impacted on his quality of life.
The shop assistant, who was hit in the leg and abdomen by fragments of the bullet, was also treated at hospital.
The 27-year-old daughter of the shop owner said: "My dad is an honest, hard-working man. He has run the Show Supermarket for 14 years and is well known to the local community as a friendly person.
"We are lucky that he survived. But since then he has suffered numerous health problems as a result of the assault. He is afraid and unable to return to work."
The Association of Convenience Stores and Crimestoppers are now offering a reward of up to £20,000 for information that leads to the arrest and conviction of the people responsible for the attempted murder and attempted robbery.
Anyone with information on the incident should call Crimestoppers anonymously on 0800 555 111
0800 555 111 or call the Flying Squad directly on 020 8345 4226
020 8345 4226.