A high school student dragged an exhausted marathon runner over the line to finish in first place at a major race in Texas.
Chandler Self was leading the women's division of the BMW Dallas Marathon on 10 December when she began to collapse 200 yards from victory. However 17-year-old Ariana Luterman, who was completing the course as part of a relay team, then carried her along the final stretch.
Dramatic video footage shows the teen propping up a badly debilitated Self towards the ticker tape, which Self then falls through before medics move in to attend to her.
She finished the race in first place with a time of 2:53:58, but the help she received from Good Samaritan Luterman prompted questions about whether the victory was legal.
"I'm not really sure what happened," Self said. "My legs started turning to Jell-O at Mile 24 ... Then at Mile 25.5, they turned to Jell-O so much that every step I took, they were giving out from under me."
"I saw the finish tape. I couldn't even cross it. I had to touch it. I slapped it down," she added, in conversation with Dallas Morning News.
When she eventually recovered, the first thing she said was: "Did I win?"
The verdict appears to be that, yes, she did. BMW Dallas Marathon executive director Marcus Grunewald said competitors should not receive assistance from spectators or officials, but that help from "another participant is a grey zone".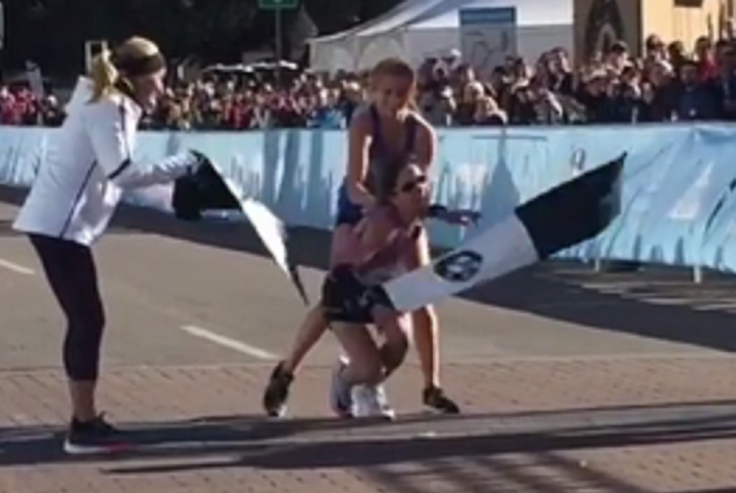 "In this situation, the executive race committee got together and reviewed the results and are deeming [Self] the female marathon winner," he added. "We've looked at the distance between her and the following four finishers. Even if she hadn't had assistance, she still would have gotten first."
Second place Caitlin Keen, who finished with a time of 2:56:37, had no complaints either. She said: "I understand someone could probably have a complaint about that. But I know if I were in her shoes, that if I fell 10 feet before the finish line, I wouldn't want someone to complain about me."
As for hero of the hour Luterman, she said she had no option but to help Self when she saw the state she was in. She said: "Right when I caught up with her at the [relay team's] 2.5-mile mark, I told her: 'Just so you know, the high school relay is out here to compete with you guys. I'm going to be your pacer. We're going to get you that win,'"
"I just couldn't help but think she worked so many months. You can be training years for a marathon. As soon as we got to the finish line, I pushed her out in front of me so she could cross the tape before I did."