Onlookers at the famous Niagara Falls were stunned watching daredevil acrobat Erendira Wallenda set a new world record by hanging by her teeth from a helicopter some 300ft above the falls.
Video circulated online showed the 36-year-old performing the aerial stunt for about eight minutes. She also did few flips on a metal loop hanging from the helicopter high above the cascading falls.
With the daredevil act, the Trapeze artist broke the previous record held by her husband, Nik Wallenda, who hung over Silver Dollar City in Branson, Missouri from a height of 250ft in 2011.
The Thursday's (15 June) spectacle coincided with the fifth anniversary of Nik's tightrope walk over Niagara Falls - a stunt that attracted wide TV coverage.
"I never stopped dreaming and thinking of things that I could do," Erendira reportedly told CNN, following her successful stunt. "I was inspired by my husband, knowing that if a guy can do it, a girl can do it, too."
She termed the challenging experience "beautiful and amazing". Nik was in the helicopter while his wife performed the daring aerial act. He was seen leaning out of the copter passing on messages between Erendira and the pilot.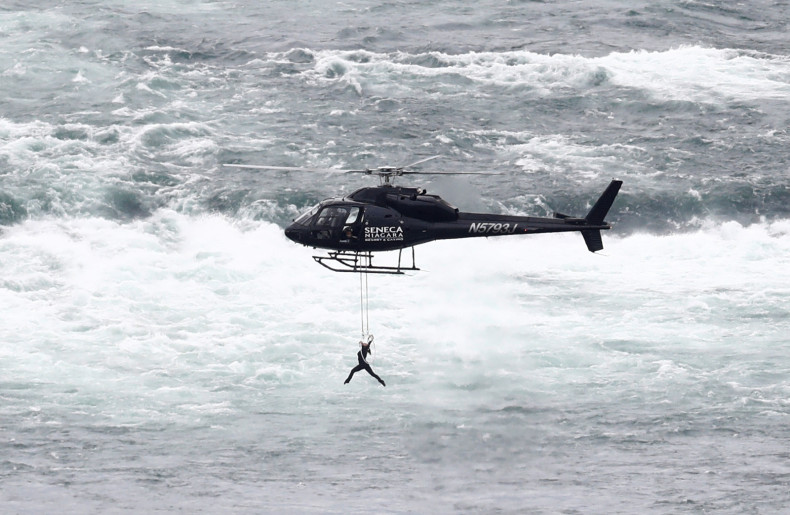 The couple belongs to a family of daredevils, many of whom have been performing stunts for years. Few of the Wallenda family have lost their lives while carrying out various aerial acts.
Nik's great-grandfather, Karl Wallenda, fell to his death, aged 73, in 1978 when he tried to walk on a wire between two hotel towers in San Juan, Puerto Rico.