A British man is "lucky to be alive" after he was flattened by a double-decker bus that appeared to lose control when it went round a corner.
Miraculously, he picked himself up after the collision and then headed straight to the pub.
Simon Smith was walking along Gun Street in Reading, south of England, on Saturday (24 June) when the bus breached the pavement while taking a right-hand bend in the road.
CCTV footage, obtained by the BBC, shows Smith being smacked by the front of the bus and sent flying forwards along the pavement, showered in debris falling from a building that the bus also collided with.
Smith was inches from serious injury or even death as he flew head first through a metre-wide gap between a lamppost and the building.
But, thankfully, instead of suffering a high impact wound, Smith was able to pick himself up – and head into the pub. The accident happened right outside the Purple Turtle, a popular Reading bar and nightclub.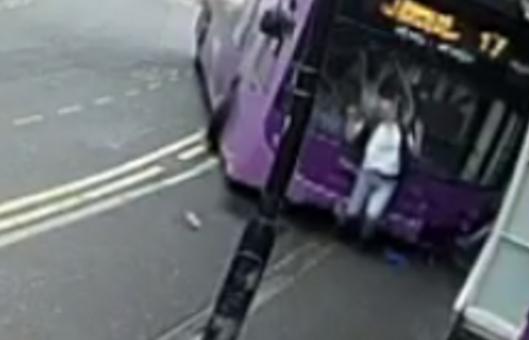 It is not known whether the lucky man had been heading out for a drink before he was hit or if he needed a stiff one after the near-death experience.
The video was shared on Facebook by BBC South West and has already been watched around 250,000 times.
"It always feels like the Reading bus drivers are trying to kill us and here is definitive proof," joked David Luck in the comments section.
Jenna Pearce said: "Flipping hell! Lucky to be alive indeed. [I] hope he recovers OK."