The moment an enormous humpback whale breached the ocean and nearly capsized a boat carrying stunned New Jersey fisherman has been captured on video and broadcast around the world.
The footage was shot by Paul Ziolkowski, aka 'Pauly Walnuts', an aspiring media personality hopeful he has landed the 'catch' of his career.
Ziolkowski and his friends were fishing off Union Beach on 23 June when the adult humpback, approximately 50ft long, jumped out of the water only an arm's length from their modest boat.
The men fell to the floor as the sea giant crashed back into the water, almost upending their vessel.
Eventually, having regained their composure, they realised the huge mammal had inadvertently driven a fish into their boat.
"This definitely was one of the craziest experiences in my life and I've had many, who the f*ck would have thought I would see some Moby dick shit right here outside the Verrazano on my boys 18 footer," said Ziolkowski in a Facebook post.
"That humpback was chasing bunker all the way up to the side jumped out of the water and tapped the Hull of my boat knocking bunker into the boat. Crazy, I know it sounds like a fish story LOL but these NewJersey waters are serious," he added.
In the three days since the remarkable event, Ziolkowski has made numerous media appearances and has begun to describe himself as "The Whale Whisperer". He had previously promoted himself as an edgy fitness guru, uploading videos of himself lifting weights and talking loudly.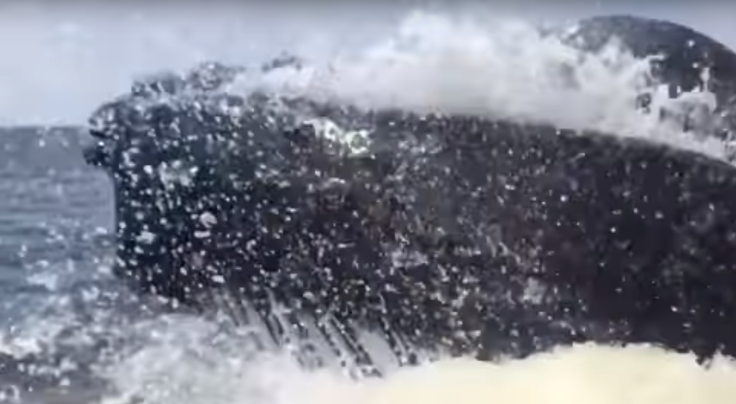 The whale video has proved so popular with internet users and TV viewers across the globe that Ziolkowski is now pondering (publicly) about whether he has had his big break.
Last night (25 June), he took to Facebook and wrote: "Agents lining up to get your boy walnuts on TV (maybe my own TV show), I've jumped to the top search in Google when you look up 'whales breaching', my name and story is the first thing you see.
"Agencies are recognizing your boy's potential in less than a day I have become a household name in virtually every single continent across this globe for witnessing one of God's most majestic creatures, giving me a chance to record it's magical presence.
"WHAT AN EXPERIENCE!!!!!! I am beyond grateful that God has given me a chance to finally demonstrate to the masses what my real potential always was and WILL climb to be."
Only time will tell us if Ziolkowski has the talent personality to sustain a career in the entertainment industry. However, a cursory glance at his pre-'Whale Whisperer' Facebook posts are somewhat revealing.
On 21 June, he said: "Don't you hate when you get all fresh to def in the shower, dressed and ready to go out and then all of a sudden...BOOM! You gotta poop. Well God Damn, that just depreciated the value of my property, time to go back in the shower and make some some renovations #paulyswalnuts".