<source src="https://video.ibtimes.co.uk/transcoder/480p/154/space-x-1515067840.mp4" type="video/mp4">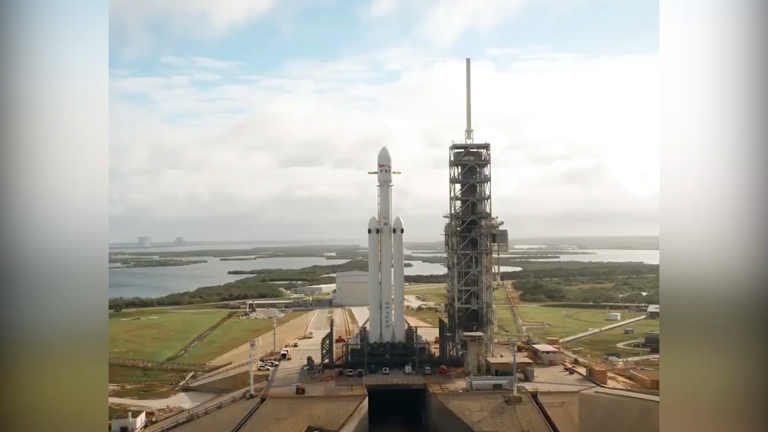 Elon Musk shared two amazing videos of SpaceX's new Falcon Heavy rocket, which is slated to debut later in the month. One of them is a time-lapse video that shows the Falcon Heavy going vertical at the 39A launchpad, the very same launchpad at Nasa's Kennedy Space Center that saw the historic launch of the Apollo 11 moon rocket.
According to Musk, the Falcon Heavy, with 2,500 tons of thrust, will fly at speeds "equal to 18 Boeing 747 aircraft at full throttle". Musk also says that the Falcon Heavy will be "the most powerful rocket in the world by a factor of two". Musk also confirmed that the Falcon Heavy's hold down test fire will occur sometime next week.
Earlier in the week, SpaceX shared several up-close photos of the rocket.
SpaceX also announced the delay of its mysterious Zuma mission – the fourth such delay to occur over the past year. Zuma, the US government satellite was originally scheduled to be launched in November 2017, but the mission was delayed to 4 January. Although SpaceX announced that it would launch Zuma on 5 January, the mission appears to have hit another snag.
SpaceX also announced on Twitter that it is now targeting the Zuma launch for 7 January from launch pad 40 in Florida. The delay was caused by "extreme weather", likely the result of storm Grayson, which appears to have left the US to deal with freezing cold temperatures.
Meanwhile, the fate of the Falcon Heavy launch remains unknown. Musk himself has previously indicated that there is a chance that the launch may not be successful. However, the hype surrounding the Falcon Heavy launch is enough to ensure scores of space enthusiasts waiting with bated breath for the launch.
"Excitement on launch day guaranteed, one way or another," Musk said.