Fear the Walking Dead season 2 is finally increasing its pace and characters. The companion zombie thriller will return this Sunday with episode 3 Ouroboros and fans can expect plenty of gore-filled action from Madison Clarke and Travis Manawa's children Chris, Nick and Alycia.
Watch the episode via live stream here if you are in the US. You can also watch it on your Android and iOS devices using the AMC app.
Madison and Victor Strand will have a major argument over Abigail's next destination. Though Strand appears dark and mysterious, the high school counsellor has no option other than trusting him and letting him move to Baja, Mexico.
A promo released by AMC reveals that Flight 462 has crashed and there are only two survivors who are drifting in the sea. Though Charlie and Jake will survive the crash, it is difficult to predict how they will continue to live as Jake looks seriously burnt.
Some snippets of the video also hint at a major horde of zombies attacking Daniel Salazar, Chris, Nick and Alycia as they try to find supplies and medicines from the wreckage of a crashed plane on a deserted island.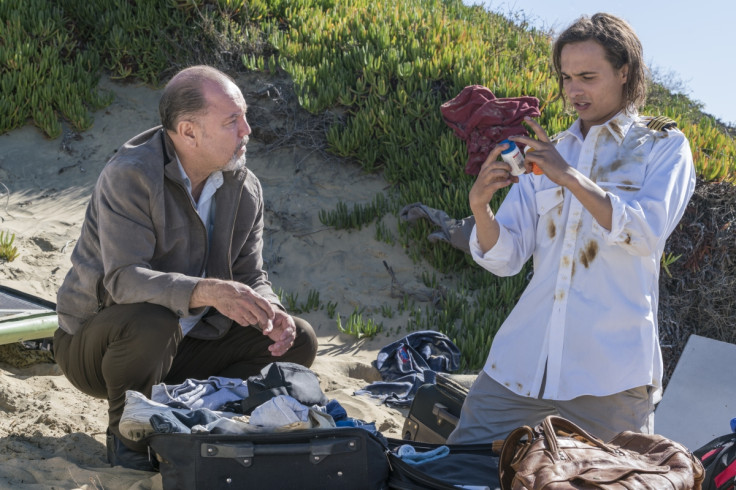 Daniel will be warned by Charlie to run and soon the entire cast on the island will be surrounded by the infected. The promo also reveals how the characters of FTWD are growing strong and are becoming adaptable to a post-apocalyptic world. They are ready to kill some undead walkers with minimal weapons in their hands.
Alycia Debnam-Carey, who plays Madison's daughter, is emerging as a strong character and the upcoming episode will show her in action as she confronts Strand and her mother to save someone. Show co-creator Dave Ericson has already predicted that she will grow stronger with each episode.
"As the season progresses, we are going to see her [Alicia] adaptability and strength. She has always been strong but I think we will see her even stronger," he told IBTimes UK in an exclusive interview.
However, it appears their search will go awry and Nick will get trapped with a zombie who tries to bite a mouthful of Madison's drug-addicted teen son. Will he be able to survive and he will be the victim of the undead?
The mystery will unravel in Fear the Walking Dead season 2 episode 3 which will air at 9pm on 24 April on AMC in the US. The show will simulcast at 2am on Monday 25 April on BT.