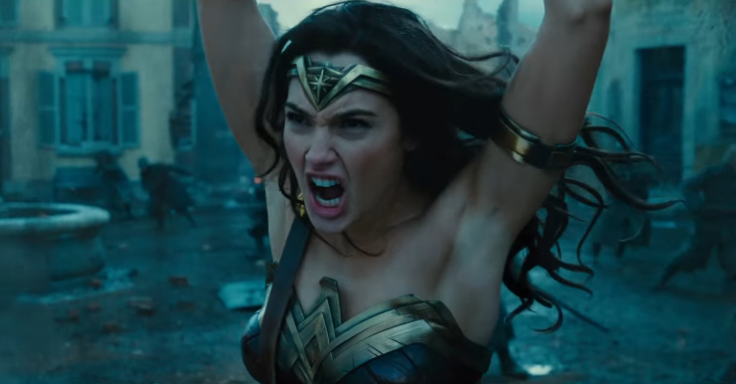 After teasing a series of clips and photos of the much anticipated movie Wonder Woman for the past several months, the makers of film released the final trailer of the superhero film on 7 May. And, it is epic in every way imaginable.
The three-minute action-packed preview – dubbed Rise of the Warrior – made its debut at the 2017 MTV Movie and TV Awards, and gave fans a glimpse of an adolescent Princess Diana (Emily Carey) and her zeal to fight the bad guys even if it means with just a shield.
"What if I promise to be careful? Just a shield then! No sharp edges!" says a young Diana as he her mother Queen Hippolyta (Connie Nielsen) warns her about the coming of "man" and tells her they don't deserve her. "You have told me this story," Diana adds.
The flashback abruptly ends, and Gal Gadot as Diana appears. She dives off a cliff as she spots Chris Pine's character Steve Trevor, an American pilot who crash lands near the Amazons. Trevor tells Diana that the war raging in the outside world will never cease as the masked mad scientist Dr Poison's intention is to kill millions of people. Elena Anaya plays the role of Dr Poison.
"The boys in the trench called her Dr. Poison," Trevor warns Diana and adds, "Millions will die. The war will never end."
In the next scene, Diana grabs her lasso of truth, shield, sword, battle armour, tiara, bullet-proof wrist cuffs, and battles alongside men against other men in WWII.
Directed by Emmy-nominated filmmaker Patty Jenkins, the movie also features Robin Wright, Danny Huston, Lucy Davis and Doutzen Kroes among others. The film will hit theatres in the US and the UK on 2 June.