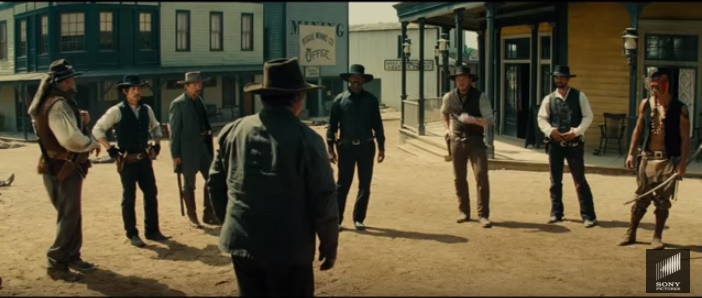 It seems like the reboot of The Magnificent Seven will be more violent than the original of the same name, which was itself a remake of the Akira Kurosawa movie Seven Samurai. The first trailer of the Antoine Fuqua-directed film shows a glimpse of what is in store for fans waiting for the release of the action-packed Western, which boasts of a star studded cast.
In the movie, actor Peter Sarsgaard's character Bartholomew Bogue, an industrialist, is ruthlessly exploiting the people of a small town when actor Denzel Washington's character Sam Chisholm comes to the rescue of the oppressed. Chisholm, who himself is an outlaw, is hired by the town's people to take down the dangerous industrialist.
In the trailer, a character played by Haley Bennett says: "We are decent people driving from our homes. Slaughtered in cold blood."
Chisholm says: "So you seek revenge?" and Bennett's character says: "I seek righteousness...but I'll take revenge."
The next scene in the trailer shows Chisholm meeting Chris Pratt's character Josh Farraday for the first time. In the scene, Chisholm says: "Took a job and am looking for some men to join me." Farraday asks: "Is it difficult?" to which Chisholm replies: "Impossible."
Chisholm goes on to recruit six other men to fight Bogue and his army of enforcers. The other men of the group will be played by Chris Pratt, Ethan Hawke, Vincent D'Onofrio, Byung-Hun Lee, Manuel Garcia-Rulfo, and Martin Sensmeier.
The remake has a lot to live up to with John Sturges' 1960 classic counted as one of the best Westerns of all time. Besides, the actors of the remake will have big shoes to fill as Sturges' movie employed renowned actors like Charles Bronson, Steve McQueen and James Coburn.
The Magnificent Seven opens in theatres on 23 September in the US.
Watch trailer below:
More from IBTimes UK