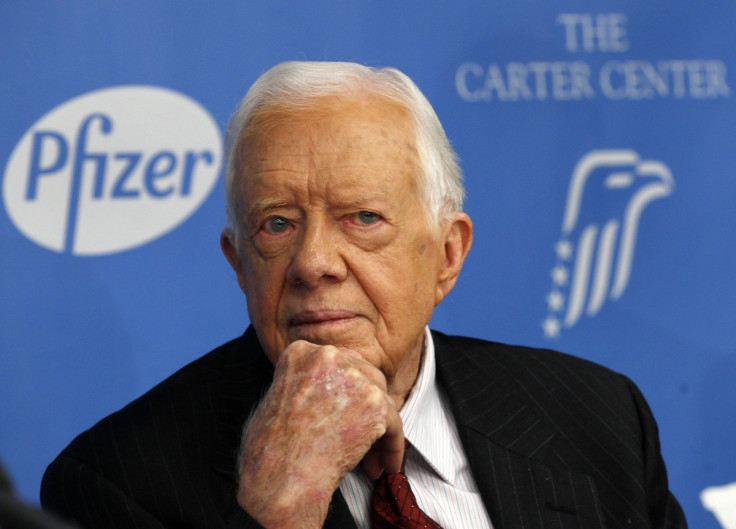 Jimmy Carter will make a rare speech to British parliamentarians to highlight his work tackling the rare tropical disease of Guinea-worm. The former US president, who served as the country's commander-in-chief between 1977 and 1981, will address the House of Lords on 3 February.
The 91-year-old is seeking to eradicate dracunculiasis, which is still found in countries such as South Sudan, Mali, Ethiopia and Chad. The infectious disease can be avoided by not drinking contaminated water.
The former Democrat leader has also warned ahead of the speech, and after the Iowa caucuses, that big money is dominating the presidential race.
Carter, who inherited his family's peanut farm in Georgia, said: "There is a massive infusion of hundreds of millions of dollars into campaigns for all the candidates. Some candidates like [Donald] Trump can put in his own money, but others have to be able to raise a $100m (£69m) to $200m just to get the Republican or Democratic nomination. That's the biggest change in America."
He also told BBC Radio 4's Today programme: "Millionaires and billionaires can put in unlimited amounts of money directly into the campaign. In a way it gives legal bribery a chance to prevail."
The comments come after it was revealed that Republican candidates spent a staggering $43m in Iowa on television advertisements. Ted Cruz was to come out on top and beat Trump into second place for the nomination. Our sister site, IBTimes, discovered that Jeb Bush spent $2,888 per vote.
You can watch Jimmy Carter's speech to the House of Lords from 5.30pm GMT on Parliament TV. The former US president and human rights activist will be delivering the address in the Robing Room.