The US has once again flown two of its nuclear-capable supersonic bombers near the demilitarised zone (DMZ) that separates North and South Korea. This is believed to be the US Air Force's fourth flight since March following North Korean dictator Kim Jong-un's repeated missile tests.
The B-1B bombers flew to the region for a practice bombing run as part of a joint exercise, where they were joined by Japanese and South Korean fighter jets on Friday (7 July), the Pacific Air Force said on Saturday. The drills came as a show of force in response to Pyongyang's first launch of an intercontinental ballistic missile (ICBM) on 4 July.
The US Lancer bombers took off from the Andersen Air Force Base at the island of Guam for the 10-hour joint mission to conduct a precision strike training exercise. The missile called "Jungle Lightning" by the Air Force saw the militaries fire inert weapons at the Pilsung range in South Korea near the DMZ.
The exercise was a defensive show of force and unity from the three allied nations, AP cited US military officials as saying. The drill demonstrated "the ironclad US commitment to our allies", General Terrence O' Shaughnessy, a commander with the Pacific Air Force, said in a statement.
"North Korea's actions are a threat to our allies, partners and homeland," he said. "Let me be clear: If called upon we are trained, equipped and ready to unleash the full lethal capability of our allied air forces."
This is the second show of force by the US military since North Korea fired an ICBM, the first by the country.
The US and its ally, South Korea, conducted a joint drill and fired a barrage of missiles into the waters off the Korean peninsula hours after Pyongyang's ICBM test.
"US bombers and Republic of Korea fighters are just two of many lethal military options at our disposal," said Lieutenant General Thomas Bergeson, US Forces Korea deputy commander. "This mission clearly demonstrates the US-ROK alliance remains prepared to use the full range of capabilities to defend and to preserve the security of the Korean Peninsula and region."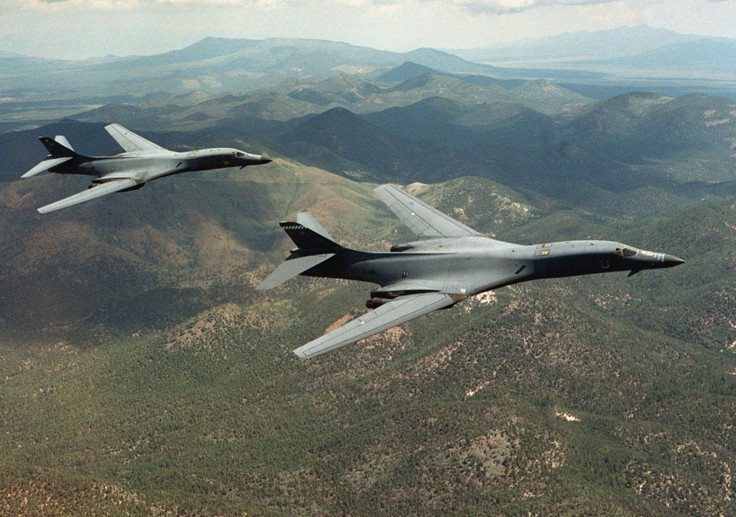 Before the B-1B bombers returned to Guam, they flew over the East China Sea with F-2 fighter jets of the Japan's Air Self-Defence Force, the US Pacific Command said.
Hours before the US bombers flew over the East China Sea and the DMZ, two of them even flew over the disputed South China Sea, challenging Beijing's territorial claims in the hotly contested waters.
The B-1B Lancer bombers flew late on Thursday (6 July), Reuters reported, but it is unclear over which part of the South China Sea the bombers flew.
By flying over the islands that China claims as its own, the US is trying to assert the right to treat the region as international territory. The latest move by Washington is likely to infuriate China.