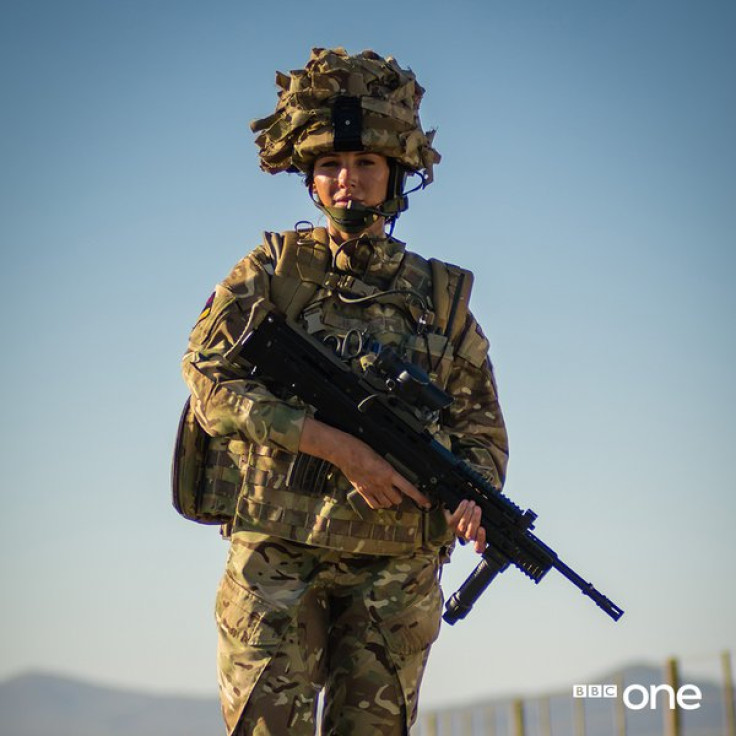 Michelle Keegan shocked the nation with her first ever sex scene on E4's Plebs in April earlier this year, but the former Coronation Street actress will be getting steamy on screen once again in new television drama Our Girl. The trailer for the forthcoming BBC drama has just been released and shows 29-year-old Keegan steal an intimate moment with her Special Forces officer in the series, Elvis Harte, who is played by Skins actor Luke Pasqualino.
Keegan – who portrayed Tina McIntyre on the ITV soap between 2008 and 2014 – looks a far cry from her usual glamorous self in the new drama as she wears little make-up and a military uniform.
She plays Corporal Georgie Lane in the series that sees her character get caught up in a love triangle on the front line – so if you're not one for army dramas, this one has something to offer everyone.
The action-packed fleeting trailer switches from front line explosions and raids to intimate moments involving Keegan as she strips naked with Pasqualino for a passionate scene. Her character develops a close bond with the Special Forces officer and leaves her boyfriend back home wondering if something is going on.
Already anxious about the Corporal's six-week humanitarian sting in the dangerous Kenyan war zone, the boyfriend will no doubt be heartbroken if he discovers she has been unfaithful. Then it'll be war...
Keegan – who has been married to TOWIE star Mark Wright for more than a year – was spotted filming scenes in Manchester earlier this year wearing a white wedding dress, though it is unknown who she married.
Other on-set pictures released this year showed Keegan and Pasqualino filming scenes in ordinary clothing, suggesting that a close friendship or relationship had developed between their on screen characters.
Keegan and Wright have endured numerous rumours that their marriage is in trouble since the former has been filming in South Africa for many months. The actress was allegedly spotted looking close to Pasqualino in between takes during filming extra scenes in London.
Keegan's agent responded to the rumour by stating: "The pictures were taken during the filming of Our Girl in which they portray a relationship and are fictional scenes," Mirror Online reports.
Meanwhile, Keegan has been posting selfies since yesterday (21 August) after her husband was allegedly involved in a "5 on 1" brawl against EastEnders actor Danny Dyer. Read more about the incident here.
Our Girl returns to BBC1 on 7 September.