Michelle Keegan is proving her versatility as an actress after coming from Coronation Street as the feisty, rough diamond Tina McIntyre to a femme fatale in ITV2's new series of Plebs. Keegan, married to former TOWIE star Mark Wright, set pulses racing as her first ever sex scene went down a storm.
The naughty incident unravelled as Keegan's character, a cheeky Vestal Virgin named Ursula, got down to business with actor Joel Fry, who plays Stylax, during Monday night's (11 April) episode. An overly confident Ursula took control of the situation as she enticed the lead character into the steamy romp, prompting him to enquire: "Are you sure you're a virgin? Because you seem to know what you're doing."
As the pair got underway and the scene heated up even more, their love-making led to a glass of wine being knocked over and extinguishing a sacred flame. All havoc broke loose and their night of passion was interrupted.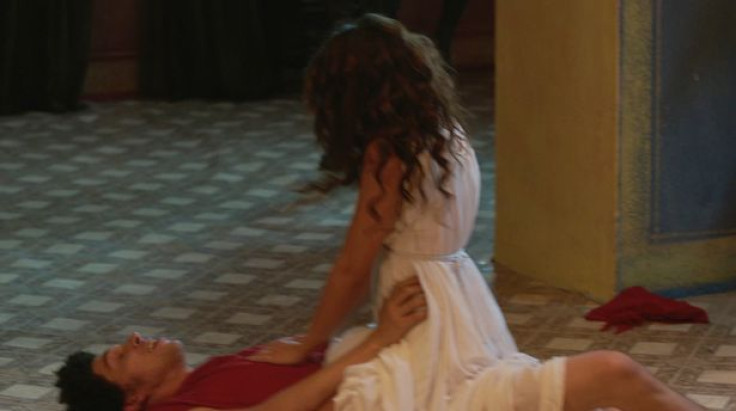 Keegan, 28, was confident of her performance ahead of the episode's airing, and commenting on her first ever on-screen sex scene, she told The Sun: "It was really nothing to be bothered about. Now I can say I've been in a sex scene and it was actually quite fun.
"I certainly wouldn't mind doing it again if it was a role like that. I wouldn't be as nervous," she added, hinting she'd like to appear on the show again.
But just last month the former Corrie star confessed that she'd wanted to get the sex scene out of the way after signing up to the comedy, telling The Daily Record: "I'd never done one before – I know people who've done them and I've always been like, 'How could you do that?'"
"It was the first scene I did, I wanted to get it out the way. And we had to do it lots of times to shoot different angles.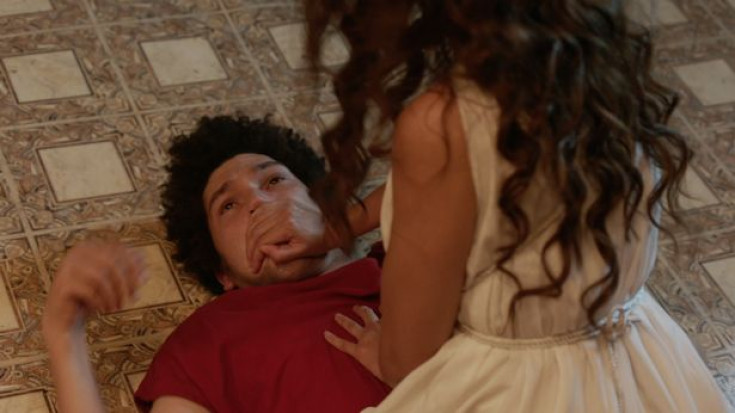 "It was with Joel Fry who is really laid back and made me feel comfortable. Afterwards I was like, 'Was that it? How could I get so nervous?' I'm not going to lie, it was so easy, she continued.
Some fans' reactions summed up how it came across on screen:
Keegan's evolution since leaving the cobbles has been rife, along with her highly publicised wedding nuptials to Wright in May 2015, the actress has taken on some challenging television roles that have broken her out of the Tina McIntyre typecast including Ordinary Lies and Our Girl.
The star first appeared on Corrie in 2008 where her character was central to many key storylines relating to issues such as perjury, abortion and surrogacy along with a string of love interests including David Platt and Jason Grimshaw.
Tina was killed off following a row between her and married man Rob, whom she was having an illicit affair with. She plummeted onto the 'cobbles' below after she tried to barge past him, losing her balance on the balcony. After finding her still conscious, Rob then repeatedly beat her with a metal pipe, afraid she would divulge details of the affair, and she later died in hospital.
Plebs series three continues on ITV2 next Monday (18 April) at 10pm.