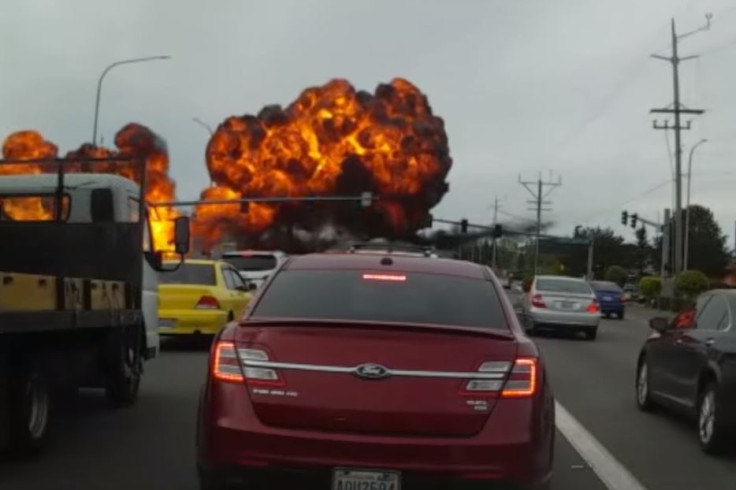 A pilot and his passenger have somehow survived after their airplane crashed in a fireball on a busy road in Washington, US.
Astonishing footage from a motorist's dashcam captured the moment the single-engine aircraft fell from the sky over the city of Mukilteo in Washington state on Tuesday afternoon (2 May).
The plane can be seen clipping a power line – sending sparks flying – before hitting traffic lights overhanging Mukilteo Speedway.
The aircraft is then enveloped in fire as it crashes on Harbor Pointe Boulevard Southwest.
As a huge plume of smoke rises into the sky above, cars can be seen trying to drive away from the crash site to safety.
A number of vehicles were damaged in the crash and traffic was blocked for several hours. But there were no serious injuries, according to Mukilteo Police Department.
The pilot, a man from Oregon, told investigators he lost power shortly after taking off from Paine Field airport just before 3.30pm local time, news channel Q13 Fox reported.
He said he was losing too much altitude to return to the airfield so attempted to land on Harbour Point Boulevard Southwest because it was clear.
The pilot and his passenger reportedly walked away from the accident without serious injuries.
Photos posted on social media by police and firefighters in the aftermath of the crash showed the aircraft in a crumpled wreck, with both wings and tail severely damaged.
Amanda Hayes, a motorist who was driving to work with her colleague, said she felt the fireball as the plane went over her van.
"[It felt] terrifying [and] hot, but we're okay, and it's really all I can ask for that nobody involved was injured," she said.
Nearby resident Ron Cohen, a pilot himself, said: "It looks like he [the pilot] did an incredible job."
The crash caused a brief power cut in the area, the Snohomish County Public Utilities District said.