A tourist has captured on camera the moment a Disney World monorail was allowed to travel high above the park with its doors wide open.
The train was travelling between the Transportation and Ticket Area and the Epcot, one of the four theme parks at the Walt Disney World Resort in Bay Lake, Florida, on Saturday (6 January) when the incident unfolded.
In the video, which was originally posted on Instagram, the monorail can be seen travelling with doors open high above ground, while one of the passengers holds onto a metallic pole for safety.
The author of the video, who goes by the name Abbieprimeknits on the social media site but declined to be identified, captioned the clip: "Monorail red is not having a good day and I'm having a panic attack."
According to the Orlando Sentinel, the woman subsequently said the red line train appeared to be experiencing issues before departure and maintenance spent approximately 10 minutes working on the door.
However, it soon became evident they were unable to repair the fault, as the door flung open during the 15-minute trip. When passengers realised the door would not latch, the adults moved towards the middle of the carriage, while two of children sat on their parents' lap, the woman added.
"Several of the people in the car took charge, reminding everyone that we were unharmed and that if nobody moved and we were calm we would reach the station safely," she was quoted as saying.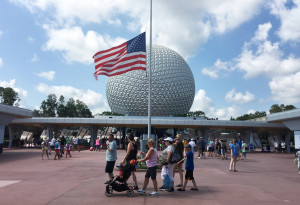 "That went a long way towards keeping everyone calm."
Monorails can reach speed of up to 40mph during their trips but, according to The Disney Blog, the train doors are fitted with a sensor that is supposed to alert the driver if a door has not closed properly to prevent the train from leaving the station.
A Disney spokeswoman told the Orlando Sentinel that the train was immediately removed from service and the company has taken steps to ensure the incident will not happen again.