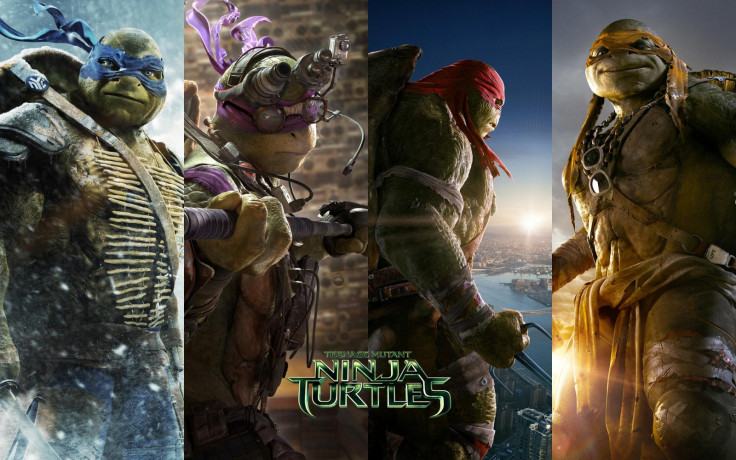 The latest trailer of Teenage Mutant Ninja Turtles: Out of the Shadows has been released. The trailer shows the heroes having a crisis of faith, which prompts them to consider turning into humans with the help of a magical concoction called purple ooze.
Shredder (Brian Tee) with the help of mad scientist Baxter Stockman (Tyler Perry) will be looking to build an evil army from the magical concoction, which can also turn humans into mutants. When April O'Niel (Megan Fox) witnesses the changes of Rocksteady (WWE's Sheamus) and Bebop (Gary Anthony Williams) from humans to mutants in a laboratory experiment, she steals the purple ooze and runs. But the villain's foot soldiers chase her and at this juncture a masked vigilante by the named Casey Jones (Arrow actor Stephen Amell) comes to her rescue.
The heroes, after coming to learn what the purple ooze can do, have an argument on whether to use the magical concoction on themselves to become humans. Leonardo (Johnny Knoxville), however, tells Michelangelo (Noel Fisher), Donatello (Jeremy Howard) and Raphael (Alan Ritchson): "We're turtles, whether you like it or not."
Later in the promo, Splinter (Danny Woodburn) advises Leonardo: "Keep the team unified. And you shall always succeed."
The cast of the film also includes Will Arnett as Vernon Fenwick, Alessandra Ambrosio as Vernon's girlfriend, William Fichtner as Eric Sacks, Laura Linney as Rebecca Vincent, Brittany Ishibashi as Karai and Fred Armisen as Krang.
The sequel has been directed by David Green and the script is by Josh Appelbaum and André Nemec. Bay, Brad Fuller, Andrew Form, Galen Walker and Scott Mednick have produced the film.
Teenage Mutant Ninja Turtles: Out of the Shadows will release in the UK on 30 May and in the US on 3 June.