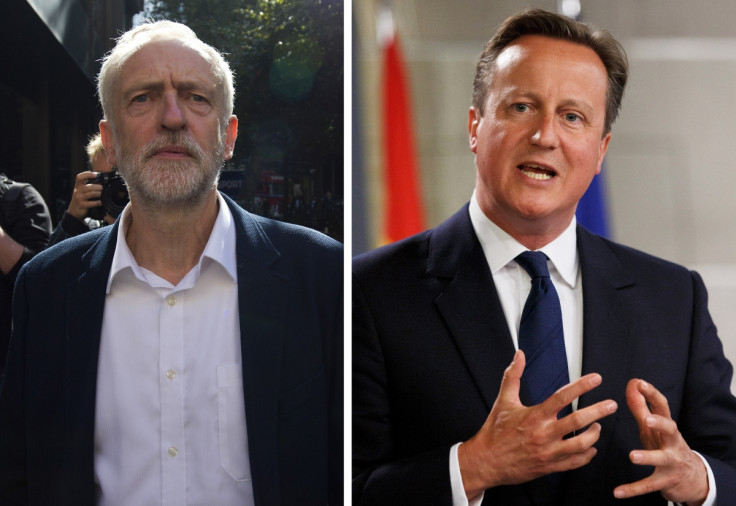 Jeremy Corbyn and David Cameron will drop their white tie and tails after attending the Queen's Buckingham Palace bash for Chinese President Xi Jinping and get back to business when the leaders clash at Prime Minister's Questions (PMQs) on 21 October. Cameron comes into the bout amid a raging debate over George Osborne's plan to cut tax credits.
The proposal, which will see claimant earning levels slashed from £6,420 ($9,946) to £3,850 in April 2016, has even been attacked by Tory MPs. New backbencher Heidi Allen passionately attacked the move during her maiden speech in the House of Commons on 20 October.
"Conservatives pride themselves on living within their means, of cutting their cloth, but what if there is no cloth?" she declared. "It is right that people are encouraged to strive for self-reliance and find work that pays for their independence from the state, but I worry that our single-minded determination to reach a budget surplus is betraying who we are."
Corbyn, who has maintained his "new approach" of fielding questions from members of the public, is likely to mention the tax credits issue when he challenges Cameron. His shadow chancellor, John McDonnell, has promised to reverse the cuts if Labour gains power in 2020. The left-winger is also likely to bring up the plight of Britain's steel industry as thousands inside the sector across the UK face lay-offs.
But the prime minister was handed some ammunition to fire back at the Labour leader on 20 October. Corbyn controversially appointed Guardian journalist Seumas Milne as his new communications chief. The move has upset Labour moderates as Milne, is a former member of the Communist Party of Great Britain (CPGB), is seen as being on the hard left. The appointment comes after the foundation of Momentum, a pro-Corbyn pressure group that will attempt to establish a "more democratic party".
PMQs will start at 12pm BST and can be viewed on BBC Parliament, BBC2's Daily Politics, Parliament TV and Sky News. Also make sure to follow the debate on @IBTUKPolitics.