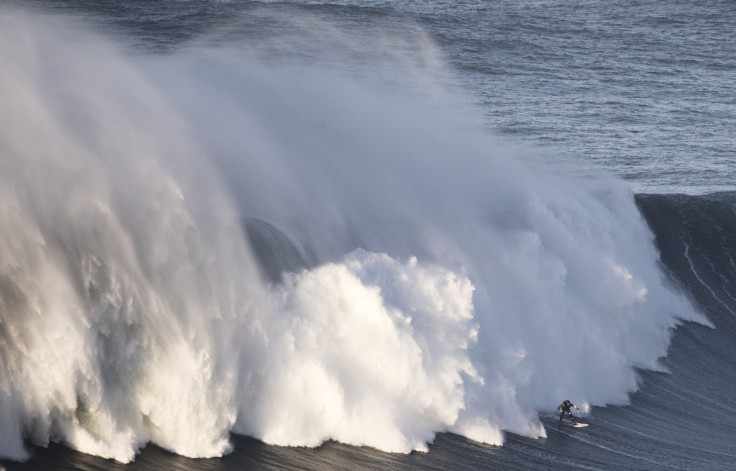 A British surfer broke his back after a mammoth 50ft wave crashed down on him in Portugal.
In what has been described as the "wipeout of the year", Andrew Cotton was severely injured after being hurled through the air and crushed by the gigantic wave near the seaside town of Nazaré.
Heart-stopping footage captured the moment the 36-year-old part-time plumber tried to surf the wave on Wednesday morning (8 November).
He can be seen being towed into the wave by jet ski before being engulfed by the huge swell, causing him to jump off his board.
The big wave surfer was then thrown through the air by the sheer force of the water before crashing down hard on the sea's surface.
"I just took a deeper line than I should have done so I faded a bit too much and then misread the wave, and then I got showed who's boss," he told the BBC.
"I can remember feeling this weird sense of weightlessness which I've never felt before and that was obviously when I was flying through the air."
Cotton, from Braunton, Devon, was rescued from the water by lifeguards and taken to hospital having suffered a fracture to part of his lumbar spine.
He says he expects to make a full recovery and to be surfing big waves again in a couple of months.
He wrote on Instagram: "What can I say, I got a little excited this morning and ending up having possibly the worst wipeout impact wise of my life.
"Thank you to all the lifeguards and crew on the beach who helped stabilise me and do a great spinal recovery, I can't name everyone but you all did your bit to get me safely to the hospital.
"I have broken my back but I've been really lucky, I'm already looking forward and focusing my energy to get fit and back out there on some more big rollers."
Cotton's terrifying wipeout was captured on film by a team making a documentary on Garrett McNamara's return to big wave surfing.
The 50-year-old American holds the Guinness World Record for surfing the largest ever wave, at 78-foot. The 2012 feat, also off the coast of Nazaré, Portugal, saw him towed into the wave via jet ski by Cotton.
McNamara's return to the sport comes after he nearly died last year when he fell off his board while attempting to surf a mammoth wave he described as being 70 feet in size.