How do pedestrians react when a van with no one behind the wheel drives towards them? This is the question Ford set out to answer, by dressing an employee as a car seat.
The man drove a Ford Transit van through Arlington, Virginia, in August this year. The van quickly became a star of local social media before a TV journalist discovered the 'self-driving' car was being helmed by a man hidden in the seat.
Virginia Tech owned up to the stunt, claiming it was carrying out an experiment to see how pedestrians and other road users react to vehicles driven with no one behind the wheel.
Now, Ford has also admitted to its involvement with the mystery van, posting a video on YouTube showing how the seat disguise was made and how the experiment was conducted.
"The first time you see a vehicle without a driver, you're likely to be startled," Ford said, adding it is using the seat costume in partnership with the Virginia Tech Transportation Institute to research how pedestrians react to driverless cars, and what signals can be used in place of a driver's nods and waves.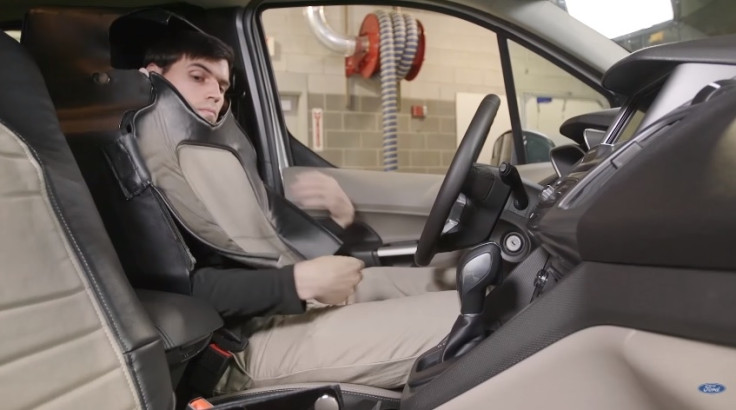 As the video shows, instead of running away in panic or trying to trick the car into stopping – as researchers have warned will happen – pedestrians are seen looking at the car in bewilderment. Several stop to take pictures. Ford and Virginia Tech have so far clocked up 1,800 miles over the course of 150 hours with the seat costume.
The carmaker adds: "When driverless cars take to the road, hand waves and head nods between drivers and pedestrians will no longer exist." To solve this, Ford has developed a light system to signal what autonomous cars plan to do next. A row of flashing and moving lights is fitted at the top of the windscreen.
"Think of it as a new way for cars to visually communicate, a way that's easy to understand," the manufacturer added.
The lighting system blinks slowly to show the car in coming to a stop – brake lights work for those behind, but pedestrians waiting to cross ahead need to be told the car plans to stop for them.
Fast flashes indicate the car is accelerating, while solid lights are shown when the vehicle is travelling at a steady speed. It is hoped that such a system will be shared among all carmakers and turned into a universal language, like stop lights and indicators are today.