Dramatic video footage has emerged of the moment a semitrailer truck exploded into a huge fireball on the Florida Northbound interstate, leaving its driver in a critical condition.
Florida Highway Patrol have since identified 69-year-old Eddy Quintana Perez of Cape Coral as the man behind the wheel.
Local media outlet Tampa Bay Times reports that the pensioner lost control of the truck after it began veering into the hard shoulder of I-75 near State Road 52, causing the fuel tank to explode as it crashed into a temporary guard rail.
Pasco Fire Rescue Deputy Chief Andrew Fossa said the vehicle and carousels released fuel and oil, which ignited and blocked northbound lanes.
The explosive collision sent the truck and its cargo of airport luggage carousels 300 feet across the highway, leaving Perez with severe burns over 40% of his body.
Devon Whitaker unwittingly captured the incident on camera, while travelling in a car driving directly behind the truck.
The 22 second clip shows the tanker explode, before Whitaker shouts a number of expletives in shock and says "back up, back up, back up!" as flames ravage the highway under the simmering heat.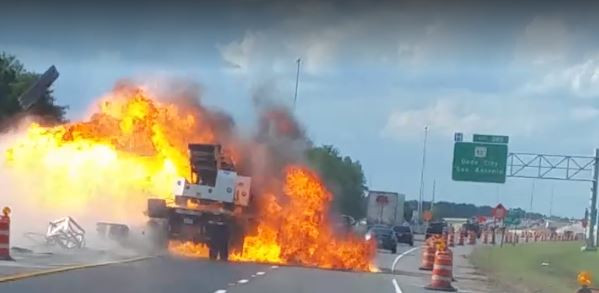 Whitaker told Storyful he had seen the truck driver drifting off the road twice before the collision and started filming. "It was insane, explosion after explosion for a while after it happened".
It took 20 minutes for firefighters to extinguish the blaze and part of I-75 was closed to traffic for hours.