Watch woman hit BBC News presenter after he accidentally grabs her breast
Ben Brown attempted to move the woman away but accidentally cupped her breast – so she hit him.
A BBC journalist was hit by a female member of the public live on air after he pushed her away during a political interview – accidentally grabbing her breast.
BBC News presenter Ben Brown was on the streets of Bradford today (16 May) discussing the recently launched Labour manifesto with colleague Norman Smith when a woman approached the pair.
She interrupted them and said "absolutely fantastic" – presumably in reference to the manifesto and Jeremy Corbyn's speech – while looking at the camera.
Without taking his eyes off Smith, Brown attempted to gently push the woman away. Unfortunately, his palm appeared to cup her right breast in the process.
The woman looked aghast as she slapped him on the shoulder before heading off.
Ever the professionals, Brown and Smith continued their discussion of Labour's proposed changes to the benefits system seemingly unfazed by the disruption. The camera zoomed in on Smith.
The incident took place just after 2pm in the centre of Bradford. The unknown woman was wearing pink trousers, a flowery top and dark sunglasses.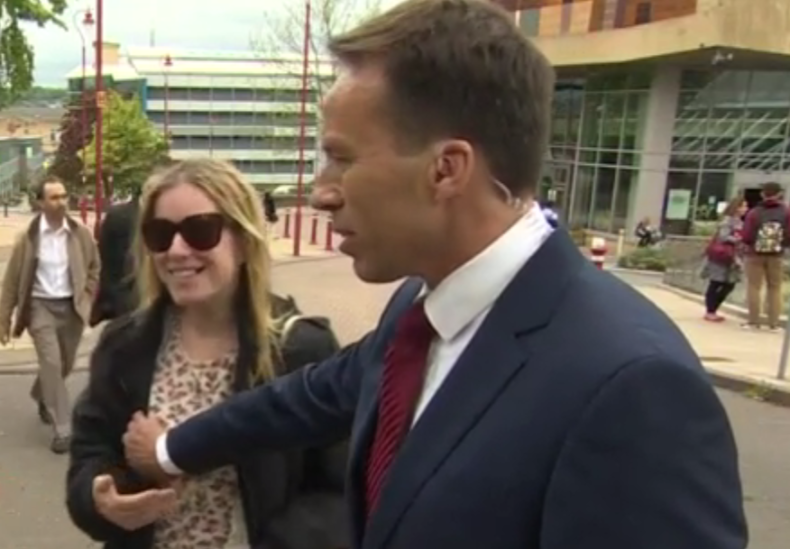 Brown, 56, is an award winning broadcast journalist who has reported from Bosnia, Kosovo and Iraq. He is now a presenter on the rolling news channel BBC News.
His interviewee, Smith, is a seasoned political correspondent who stepped up to the role of BBC Assistant Political Editor in 2014.