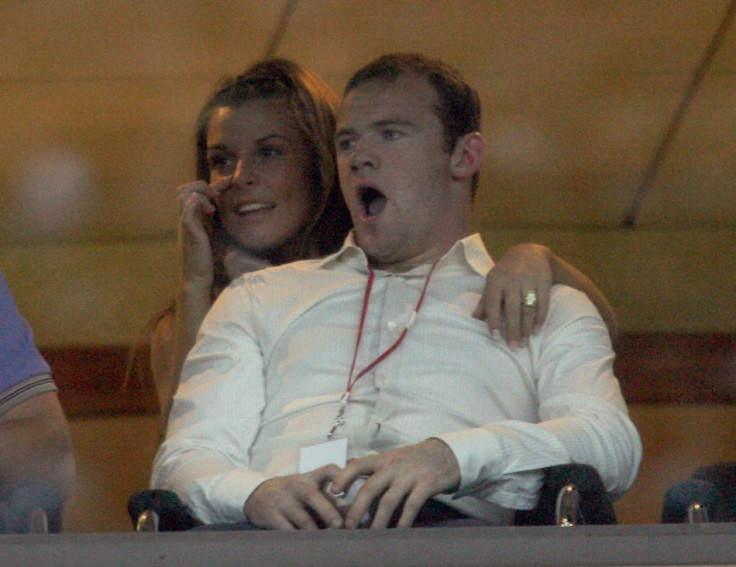 Manchester Union star player Wayne Rooney has said his controversial Boxing Day night-out picture, which cost him a fine of £200,000, is incorrect.
On December 26 Rooney, his wife Coleen and team-mates Jonny Evans, Darron Gibson, were having a night out to celebrate ManU's 5-0 win over Wigan Athletic at Tony McGee bar in The Vincent Hotel, Southport.
An image was taken at 2:12 am using a BlackBerry by someone in the crowd.
The picture which is exclusively available to the Daily Mirror shows the forward striker seated with Coleen looking on. Team-mate Evans is offering a hand to help him.
Rooney's spokesman said the 26-year-old footballer was in bed by midnight and was sober, insisting that the picture did not show the right time, writes the Mirror.
"I can only assume that the ­BlackBerry phone clock was wrong for whatever reason. There is no question of Wayne having been up at anything like that time. He was in bed by 12:30am," the tabloid quoted Rooney's spokesperson.
"Wayne went to bed shortly after midnight, about 12:30am. There was no rowdy behaviour. Wayne was not drunk, he was just having a quiet evening with friends," the tabloid quoted Paul Adams, the hotel owner, who supported Rooney's claims.
According to Paul, Rooney was there at the bar only briefly.
BlackBerry, in a statement as quoted by the Mirror, said if the phone which took the picture was on roaming mode, it would "automatically have the correct date and time". But the time of the handset can be changed manually and the altered time would be displayed when the picture was taken.
The morning after the night out, when the trio turned up for training, Manchester United's celebrated coach Sir Alex Ferguson reportedly asked them to take a day off.
Rooney and Sir Alex have been sharing a strained relationship for some time, according to reports.
Meanwhile, the club has issued a statement that Rooney is not moving out scotching rumours in this regard.