Fans saw an overwhelming twist in Wayward Pines episode 5. Turns out that residents of the eerie town are the remaining members of humanity and are living in the year 4028 -- more than 2000 years in the future.
Most of the adults were hand-picked and brought to the town in an attempt to save humanity.
Throughout the episode we saw Ethan running through the woods, while looking for clues or answers regarding his presence in Wayward Pines. While, Ben learns the truth about their existence through a slideshow shown by Mrs Fisher.
The time jump is actually the second revelation in the episode. Mrs Fisher also revealed that there was a fence protecting Wayward Pines from aberrations and violent descendants of the human race.
Ethan, meanwhile, comes face-to-face with at least one aberration, while exploring the area beyond the cliff, before bumping into David Pilcher, the billionaire scientist who foresaw the aberrations and constructed Wayward Pines as an "ark" to save humanity.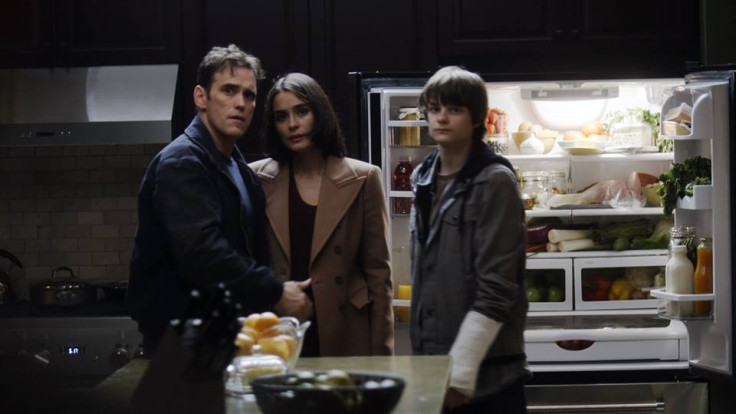 Showrunner Chad Hodge tells TVLine, "A lot of people were chosen for specific reasons, Ethan for sure. Some people were chosen because they happened to be around Wayward Pines and they could easily hijack or abduct them."
"Some people were chosen because this is actually a better life than the life they had before — you'll see a lot more of that as we go through Episodes 6 and 7," he adds.
Talking about the time jump, Hodge says, "The team did a lot of research in making it plausible for 2,000 years later in the future."
"We definitely did a lot of research, especially with our production designer, Curt Beech, who did a fabulous job. Essentially what we wanted to show is what the world would look like after 2,000 years without human intervention or pollution or destruction."
"If we all died out, the planet would probably redevelop and be more green and more beautiful, be the planet that it should be without every horrible thing that we're doing to it," explains Hodge.
The next episode is aptly titled Choices, where Ethan learns more about Wayward Pines's history.
The official synopsis of episode 6 reads as follows:
Ethan gets a tour of the facility and personnel that manage the day-to-day operations of Wayward Pines and learns more about the history and how the residents ended up in the eerie town. Meanwhile, at the realty office, Theresa finds a map of an unusual plot of land she wants to investigate and Kate and Harold are planning a covert operation in all-new "Choices".
In the latest promo, fans can see the scientist telling Ethan, "This is not a new town, this is a new civilization."
"I want to know whats out there," claims Kate, a citizen of Wayward Pines.
"You have to tell them the truth," urges Ethan, as Theresa questions, "What is plot 33?"
"These are the dark ages, but enlightenment is coming," says the scientist, as images of a destructed world are shown along with futuristic equipment and Ethan being attacked by a mutated human.
To know how things unfold in episode 6, watch Wayward Pines, which is going on a two-week hiatus and will return on 25 June, on FOX.