'We will mobilise again' says protest leader elected Hong Kong's youngest lawmaker
Nathan Law's calls for self-determination for former British colony greeted with fury in Beijing.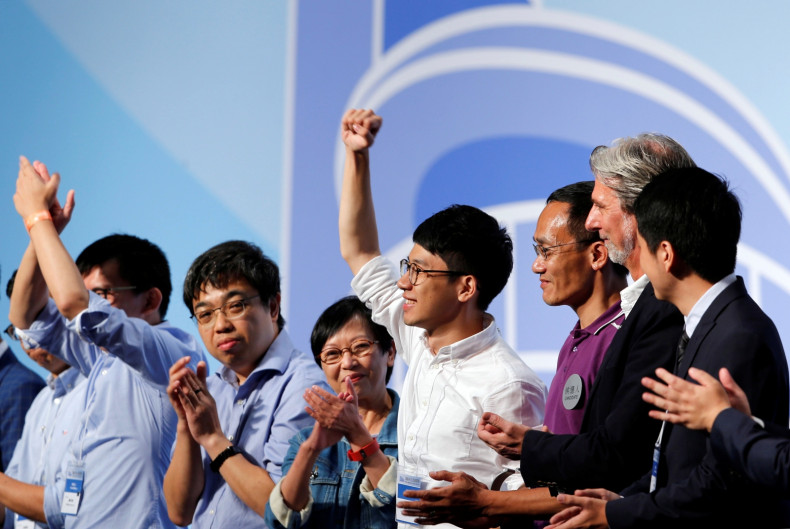 Nathan Law may be the youngest-ever member of Hong Kong's legislative council after his election on Monday (5 September 2016), but the 23-year-old pro-democracy activist is far from naive. Ever since his involvement in the so-called "Umbrella protests" of 2014, he has been firmly on Beijing's radar.
That can be a difficult place to be. Chinese-born Law was convicted in August for his role in the 2014 Occupy protests in Hong Kong, alongside fellow activists Joshua Wong and Alex Chow. Demosisto, the party he and Wong founded in April 2016, has been refused permission to open a bank account and had their election materials censored in the run up to this week's poll.
Other pro-democracy figures linked to the 79-day occupation of Hong Kong in 2014 or other anti-Beijing activities in the territory – which was handed back to China by Britain in 1997 – have fared much worse. In June, five book-sellers who were accused of distributing material critical of Beijing were reportedly abducted by the Chinese authorities.
But despite China pulling out all the stops to prevent the pro-democracy party gaining a foot-hold in Hong Kong's 70-seat legislative council, known as LegCo, Law and a number of other activists and protest leaders won seats during the election, which saw turnout of 58%.
It comes at a time of rising anti-China sentiment in Hong Kong, particularly among young people in the territory.
"I thought my [chances] were half and half. I didn't expect so many votes. It was surprising, but I think it also represents that Hong Kong people treasure their choices, and they vote because feel like there should be a new direction, a new vision for a democratic movement. I'm glad people made that choice," Law told IBTimes UK.
Beijing has responded furiously to the result, with the Chinese government using state media to underline its "resolute opposition" to any calls for independence. In July, Hong Kong's electoral commission forced candidates to sign a pledge that accepted that the territory was part of China and later banned six people from running due to their "separatist" views.
Law has stopped short of calling for independence, but said he would fight for a referendum on self-determination for Hong Kong once its current "one country, two systems" arrangement with Beijing ends in 2047. Under this agreement, signed in 1997, Hong Kong enjoys a degree of autonomy from the central government in Beijing and is classed as a special administrative region, or SAR.
"I am not fighting for independence, I am fighting for self-determination," he said.
The LegCo is only partially democratic, operating a system that sees half of its members elected by the general public and the other half by representatives of 25 different sectors of Hong Kong's economy. It has traditionally been dominated by pro-Beijing lawmakers but the growing support for parties like Demosisto has come alongside calls to make the LegCo fully democratic.
Despite the fact that the issue of Hong Kong's self-determination will not come until 1947, when Law will be 54 years old, the newly-elected activist believe that the time to start the debate is now. He hopes that a referendum on Hong Kong's future could be called in the 2030s.
"I think it is the only way to go. Hong Kong's economy is fading and it is being corrupted by the central government. We have to fight and defend our system. We need a vision for our political movement so I think it is more important for us to use that vision. It may become a reality," he said.
Meanwhile, Law looks to young people as the base for a movement that can harness the momentum gained with Occupy two years ago. "We need to try to mobilise people," he continued.