UK mobile phone network EE has announced a partnership with Wembley Stadium which will bring interactive mobile tech to tours of the historic venue. From 18 July, tours of English football's national home will utilise bespoke mobile devices, on which participants can watch 360 degree video and play around in augmented reality to enhance the stadium's real-life experience.
The new features of the tour include reading player stats via QR Codes in the England dressing room, re-creating the buzz of walking out onto the pitch on match day through Apple's iBeacon tech and experiencing 360 degree video footage which transforms an empty stadium into a live match.
The augmented reality section places key Wembley facts around the stadium which can be interacted with through a pre-programmed EE-branded smartphone given to each attendee. YouTube videos of iconic sporting moments are also shown on the devices in select locations such as the showcase of the crossbar from the 1966 World Cup final.
For the non-football fans, the "world's most technologically advanced stadium tour" can transport Ed Sheeran-aholics into the shoes of one of the 240,000 people who made it into the singer's three-date sold-out run at the London venue.
The launch coincides with the 50th Anniversary of England's World Cup win, and the Football Association and EE hope that the tech – developed by creative solutions marketing agency Nock – will enhance the collection of 1966 memorabilia that has been added to the tour.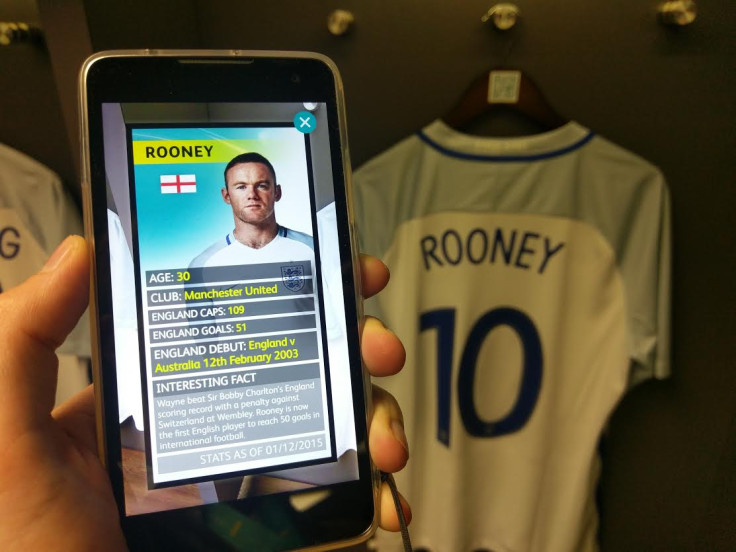 Gordon Banks, England's World Cup winning goalkeeper, attended the launch to celebrate the occasion. "It is incredible to see the evolution of the home of English football," Banks said. "The stadium is hugely impressive and this latest move from EE is the next step in bringing technology closer to live sport."
IBTimes UK witnessed select parts of the new tour at the launch event and was impressed with some of the ways in which NFC, QR codes and AR have been implemented to bring the tour to life.
While the EE SmartGuide software unfortunately demands that tour participants use a bespoke handset to interact with the tech, having extra slices of information to accompany the usual tour is a nice touch. We discussed this with a Nock spokesperson at the event and he confirmed it was not possible to deliver the same experience via a downloadable app.
If you fancy trying the connected tour out for yourself, tickets can be purchased from the Wembley Stadium website from 18 July, 2016.