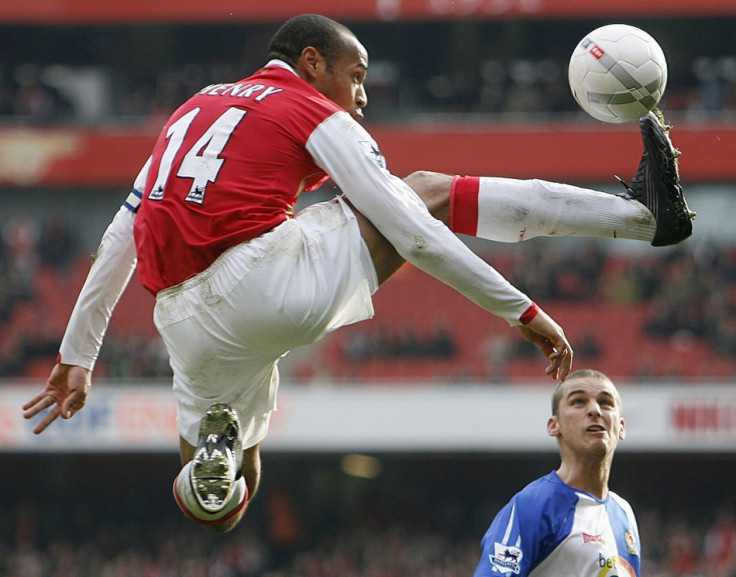 Arsenal manager Arsene Wenger has lifted the lid on the difficult decisions he faced when he allowed Gunners legends Thierry Henry and Patrick Vieira to leave the club in 2007 and 2005 respectively.
The aforementioned World Cup winning Frenchmen are two of Arsenal's greatest ever players and were instrumental figures in the countless trophies won during Arsene Wenger's stunning tenure at the club.
Widely regarded as two of the finest Premier League players in the competition's history, Arsenal have not won a trophy since he allowed Vieira to join Juventus in 2005 and Henry to Barcelona two years later, yet he believes the decision to sell two of his leading players was carefully considered and one not taken lightly.
Speaking at a supporters' Q&A at the Emirates Stadium last week, the Arsenal manager suggested he faces a perennial balancing act over retaining players entering the twilight of their careers and paying them sufficiently. The 62-year-old suggests established players continue to command lofty contract demands despite their waning abilities and sometimes difficult decisions must be made for the benefit of all concerned.
The Frenchman intimated in the cases of Thierry Henry and Patrick Vieira, Wenger deemed the duo to be past their peak and additionally, their years of service to Arsenal prompted him to allow them to move elsewhere.
Wenger claims Arsenal could not offer Vieira the length of contract he desired at the time and rather than risk losing their talismanic captain for a nominal fee or worse for free; he let his head rule his heart.
Following their respective departures from Arsenal, both Vieira and Henry enjoyed great successes in the latter stages of their simply remarkable footballing careers. The duo won countless titles at Arsenal, yet Vieira went on to win numerous others at Juventus, Inter Milan and finally at Manchester City, while Henry of course swept the board with Barcelona.
While some have been critical of Arsene Wenger for allowing the aforementioned duo to leave the club, and in particular the timing of their exits given his efforts to establish a young and evidently inexperienced side, the long-serving Gunners' chief believes the fact they have 'survived at the top' is a testament to his policy.
"In general, what is very important to understand is that we survived at the top in selling our good players," Wenger told Arsenal's official website.
"What happened is that we sold them around the age of 29 and 30. Why? Because we needed the money and for them to not go for free.
"I adopted a way of thinking that it was better to sell a player one year too early than one year too late. If you sell too late you don't get any money and you cannot buy anymore. If you sell a player early he can still sign a longer contract somewhere else."
The long-serving Arsenal manager continued: "In the cases of players like Patrick and Thierry, they were players who had given us nine years - their best years. Patrick could have made twice as much somewhere else with a four-year contract, but I did not want to give that to him.
Explaining the club's philosophy in terms of Arsenal's senior players, Wenger suggests he must determine when a player's financial demands exceeds their worth to the football club.
"What happens in football is that a player goes over his peak and you still have to pay him the maximum money. There's always a difference between the moment when a player is well paid and his performance - there is a delay." The Arsenal chief added.
"When you get to a player who is 29, 30 years old and you want to renew his contract, you pay mega money knowing that he will give you two years at his best when he is a striker."
Whilst acknowledging the difficulty in making such calls on players that are inevitably ingrained in the very fabric of Arsenal, Wenger admits he must allow his intelligence to rule over his heart.
"You have to be calculated and ask if you can pay this money, then ask if you can keep five or six players who are into their 30s and cannot give you their maximum." The Arsenal hero said.
"Of course in these situations you can only achieve things as men, with heart and respect. But in these situations your intelligence has to rule your heart. That is vital."
Henry left Arsenal four years ago, yet his lasting impression on the club was recently immortalised with a bronze statue outside the Emirates, alongside fellow Gunners' luminaries Tony Adams and Herbert Chapman. The statues were unveiled to commemorate the club's 125th anniversary.