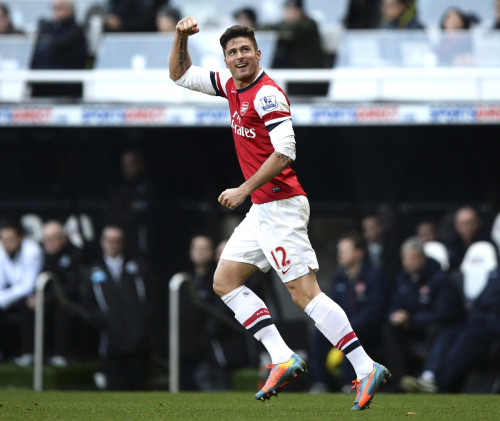 Arsenal manager Olivier Giroud has once again suggested the club might refrain from making a bid for a striker in the January transfer window after revelling in the return of Frenchman Olivier Giroud.
Giroud is expected to feature in the Premier League trip to Aston Villa on Monday with the Gunners looking to return to the summit after Manchester City's win over Newcastle United.
Nicklas Bendtner's absence and Theo Walcott's season-ending injury has pilled pressure on Wenger to sign a striker in January in order to ensure Arsenal's title challenge isn't derailed however the manager is more focused on the return of Giroud.
"People want always new names, but what is important for us is that Giroud is back," said Wenger.
"He was a bit tired recently, but now he is refreshed and I'm sure he will have a major impact on the second part of the season.
"When you speak to the coaches after the game, they say 'oh, what a client he is'.
"Giroud has qualities that the rest of the squad has not got, he always gives us that strength.
"We have small players who combine quickly, so to find someone who can hold it, keep the ball, make some room for other players, he does that very well and gives us a very good balance."
Arsenal have won both of their games without Giroud, against Cardiff City and Tottenham Hotspur but the return of the club's joint top scorer comes at a vital time in the season.
City's 15-match unbeaten run and the improvement of Chelsea means the battle for the Premier League title is a definitive three-pronged race and the return of Giroud could give Arsenal the upper hand.
"He's a tough, tough boy," Wenger added. "Even when the medical people say he should rest, he says: 'I'm alright.' He needed five stitches after the game at Newcastle," he said.
"He played the whole game at Newcastle with an open ankle (wound) and without complaining - and when I took him off, he didn't want to come off.
"He is always ready for a fight, even when he is tired."