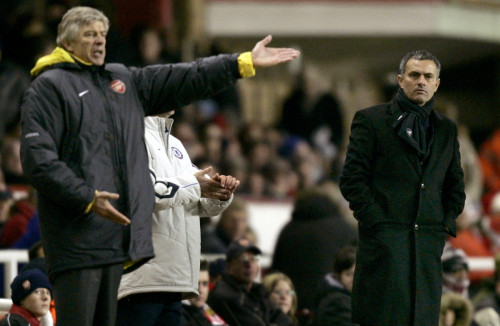 Chelsea manager Jose Mourinho has taken another swipe at Arsenal boss Arsene Wenger by insisting that qualification for the Champions League does not represent success this season.
Arsenal lead a three-pronged assault on the title by two points, though both Manchester City and the Blues could leapfrog them ahead of their summit meeting next Monday, with respective wins over Tottenham Hotspur and West Ham United on Wednesday.
The trio all face each other before the end of the season in what could be a thrilling end to the campaign but off the field, both Mourinho and Wenger have been jostling for supremacy.
Wenger last week took aim at Chelsea for selling Juan Mata to Manchester United after the club had played both their league matches against the reigning Premier League champions.
Mourinho responded that it was "normal" for Wenger to complain about such trivial matters and claimed that Arsenal are continually favoured when it came to fixture scheduling.
''In the Capital One Cup, we had to play 24 hours after. They had 72 hours. That's not fair," he said. "This week, a week without a midweek game, what everyone wants to do is play before to rest ahead of next week. One plays on Friday, another on Sunday.
''Who plays Friday? Who plays Sunday? When you go to the fixtures this season, it's never fair because they always get the right to rest and the right time to play. It's fantastic. THAT'S not fair.''
And on Monday, Wenger replied: "In the last five years all the objective studies that have been made show Arsenal had less rest than any other team in the top four.
"That is facts. It has nothing to do with my opinion. It is an independent company that made [the study] that shows Arsenal had less rest than any other team in the top level.
"Nobody is to blame, it's just the way the fixtures are sold. It is the television who decide. I cannot even blame the Premier League because the television has the last word. If they say for example they want Arsenal v Liverpool on Sunday, it will be on Sunday."
With a two-point lead at the top with a little over a third of the season remaining, this term represents Arsenal's best chance to claim the title since their last league success in the 2003/04 season.
Since, Arsenal have had to cope with playing second fiddle to Chelsea and United, while being content on qualifying for the Champions League, an achievement which has previously been heralded by Wenger as important as winning a trophy.
Mourinho said on Tuesday: "It's not a trophy. It's a moment of the evolution of this team. Next season I will be speaking differently."
Both Mourinho and Wenger have a long history of sparing with one another their latest confrontation is only adding spice to an already intriguing title race.