Arsenal fans have been spotted in Zimbabwe holding a 'Wenger Out' sign during protests against Robert Mugabe's fragile presidency.
Thousands are marching through the nation's capital Harare on 18 November hoping to remove the 93-year-old from power. Mugabe has been president of Zimbabwe since 1987.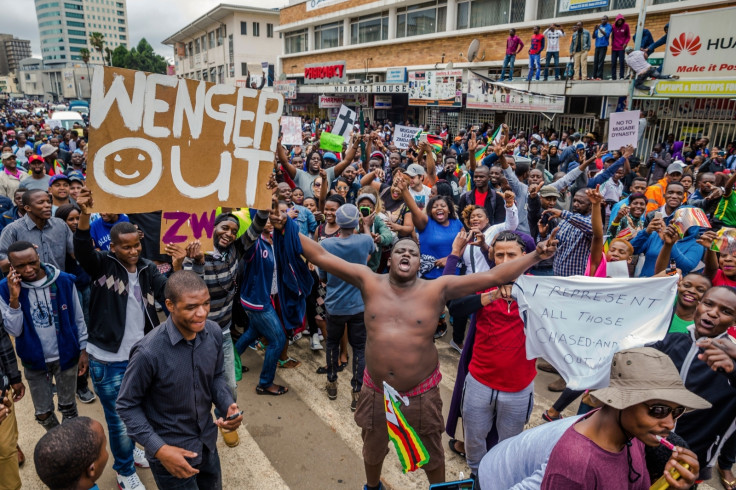 The good-humoured Zimbabweans took the opportunity to jokingly voice their concern about the tenure of Arsenal's longest-serving manager, Arsene Wenger, who has been head coach since he was appointed in 1996.
'Wenger Out' has been a common cry from disgruntled fans of the football club, which has struggled in recent years to recapture its glory days under Wenger.
Protests against Robert Mugabe
Opponents of Zimbabwean President Robert Mugabe gathered to demonstrate against the 93-year-old leader who is virtually powerless and deserted by most of his allies.
Zimbabwe's generals have placed Mugabe under house arrest and have allowed him limited movement while talks on his exit from office unfold. But many Zimbabweans are growing impatient and want him to leave immediately.
Protesters hope a big turnout on Saturday will speed up the official end of Mugabe's rule, which is widely blamed for the collapse of an economy that was once one of Africa's wealthiest.
Euphoric crowds are gathering on some main streets in downtown Harare and motorists are honking their horns and people are whistling and cheering even as many go about their daily business.
The events are an extraordinary show of support for the military's move to step in and put longtime President Robert Mugabe under house arrest.
Some of the several thousand exuberant demonstrators in Zimbabwe's capital Harare are removing street signs with the name of President Robert Mugabe and stomping on them, as pressure builds for the longtime leader to step aside.
Zimbabwe's state-run broadcaster is calling the country "free and liberated" as the bulk of the capital's population seems to be streaming toward the official residence of longtime President Robert Mugabe in a call for him to leave.
The broadcaster is showing previously unthinkable footage of speeches at a rally where speakers declare that "This is the new Zimbabwe."
Mugabe is said to be resisting calls to step down even as he remains under military house arrest.
One speaker at the rally is expressing popular anger at first lady Grace Mugabe, whose apparent attempts to succeed her husband were a factor in the military's move.
"You and your husband should go today and not tomorrow," the speaker says.